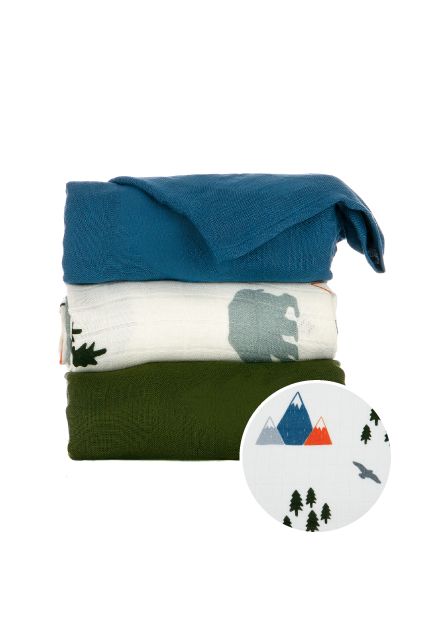 Sporting a design of roaming bears and eagles against a forest scene, 'Fairbanks' has a rugged yet modern appeal. The 'Fairbanks' set also includes a river blue jacquard blanket with a bear design and a olive green jacquard blanket of pine trees.
1. Luxurious Softness
Made of 100% Viscose, which is produced from specially processed bamboo pulp that gives our blankets a plump, fluid softness that maintains a light feel while being ultra-soft.
2. Lightweight and Breathable
Our viscose from bamboo fabric is specially woven to create a luxuriously soft fabric that is breathable and maintains its thickness and durability, which allows for airflow to baby's skin, making it easier to regulate temperature and stay comfortable.
3. Right Size for Swaddling
A generous square size of 120 cm x 120 cm makes them easy to use for swaddling.
4. Multiple Uses
Babies love our blankets as a soft place for tummy time or diaper changes, to snuggle with in their carrier or stroller, for shade or additional privacy when breastfeeding, and to snuggle in while they snooze. Bigger brothers and sisters love their Tulas for cuddles, capes, forts, nap time, and more.
5. Adorable Designs
Different print designs, from whimsical to minimalist, and kittens to spaceships, can complement your Tula Carrier, your nursery décor, or your own personal favorite themes and styles.
6. Great Baby Gift
Available as coordinating three blanket sets, and a lovable new parent essential complete with sleepy dust, our blankets are the perfect gift to welcome baby.
7. Perfect for traveling with baby
Nothing complements the perfect traveling carrier like a compact and easy-to-bring blanket, bringing a sense of home to new adventures at airports, during long car rides, and explorations of parks, zoos, and more!
8. Instant favorite
The distinct feel and style of Baby Tula Baby Blankets make them a go-to for every family member.
Tula: Blanket Set - Fairbanks
Brand: Baby Tula Inc
Product Code: Tula Blanket Set
Reward Points:

78

Availability: 2-3 Days
S$ 105.98

S$ 78.50 - Your Special

Price in reward points: 8400
Tags: Tula, Baby Tula, Blanket Set, Fairbanks