Panino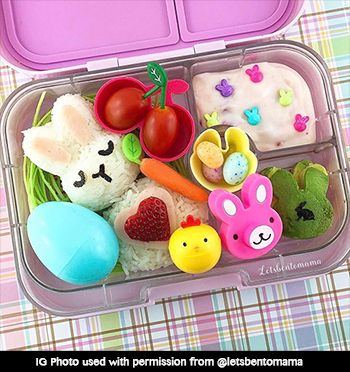 Yumbox Panino is the same compact size as the Yumbox Original but holds more food for growing kids and adults.

It has 4-compartments. It is perfect for school, work and weight conscious lunches, outdoor activities, or long traveling trips. Yumbox's pre-portioned illustrated tray guides you in packing a healthy and hassle-free lunch!

The Yumbox Panino tray is divided into one 2 cup sandwich/salad-friendly section, two 1/2 cup servings plus a dip/treat well, so you can fit everything that you need for a consistent meal, as long as you keep it balanced.

Plus they are leakproof! Yoghurt, Custard, Jelly!! In your lunchbox!

The Yumbox Panino unique single lid is going to seal every one of the compartments so you don't get mixed up flavors when enjoying your lunch. No more soggy bread or fruit tasting ham.

Dimensions: 21.5 x 15.5 x 5.0 cm and weighs 505g

Capacity:
One 2 cup sandwich/salad-friendly section, two 1/2 cup servings plus a dip/treat well

Features include:
- High quality, super durable BPA free food safe materials
- Leakproof
- Designed to hold wet foods (not liquids)
- Bento style pre portioned compartments to keep food separated
- Lightweight and compact with an easy-open latch
- Fun design and illustrations
- Compact and fits neatly in standard size lunch bags
- Dishwasher safe (top shelf only at low temp 40c)
- Easy to clean

To ensure that food stays in place and does not leak to other compartments, be sure to follow 4 Easy Steps:

1) Do not overfill compartments (an overfilled compartment could cause another to leak as well);
2) Remove any excess liquid from canned fruit, applesauce and yogurts;
3) Keep contents cool by adding an ice pack to your lunch bag;
4) When closing Yumox, press down on the lid with the palm of your hand and snap latch to closed position to create the best seal.

Do not pack yogurt drinks, soups or runny/watery dressings. Pack foods with the consistency of ranch dressing, ketchup, chunky salsas, hummus, yoghurt, and veggie dips. Some oily vinaigrette may leak out of the dip well.

Dishwasher safe – Instructions:
• The warranty does not cover warped Yumboxes as a result of dishwasher's being too hot.
• Yumbox is dishwasher safe at a maximum temperature 65C/149F.
• Top rack only.
• We highly recommend hand washing the outer shell and/or removing it before the heat dry cycle.

---
Showing 1 to 9 of 9 (1 Pages)