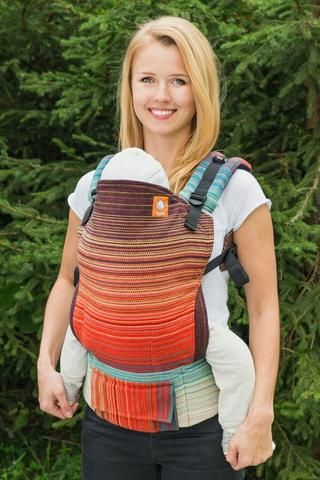 Made in Poland
A Tula Wrap Conversion is a Tula carrier made from a woven wrap. It has the same dimensions as the regular (canvas) standard or toddler Tula's, but various parts of the carrier are made from a woven wrap (a wrap especially woven to carry babies).
The Half WC carrier is made with the woven fabric only on the outside of the shoulder straps, body panel, and waistband. It has canvas or cotton twill material on the inner shell of the carrier. The detachable hood is made with woven material. Some find that the canvas reinforces the woven material to make it feel more supportive.
What is a "Fancy" WC?
In very limited quantities, we are able to acquire rare, handwoven, and even hand-painted wrap material. The Tula Fancy are made using highly sought after handwoven material are sometimes called "Fancies" by our community.
The process of weaving these artistic fabrics by hand is both gorgeous and very work-intensive. It takes many hours, sometimes weeks, to complete. As a reflection of the longer, specialized production or the rarity of the materials, handwoven wraps have a higher retail price than the other woven fabric we use to craft our Signature collection.
The weavers that create handwoven fabrics tend to work on their own or in a small studio. We are so honored that our collaborations allow us to support, female-owned businesses.
Tula: WC Standard - Stewed Rhubarb Con Fuoco Cayenne Weft
Brand: Baby Tula Inc
Product Code: Tula WC Half Standard
Reward Points:

935

Availability: In Stock
S$ 1,009.35

Price in reward points: 100000
Tags: Tula, Tula Singapore, Tula Bumwear, Tula WC Stewed Rhubarb Con Fuoco Cayenne Weft 1