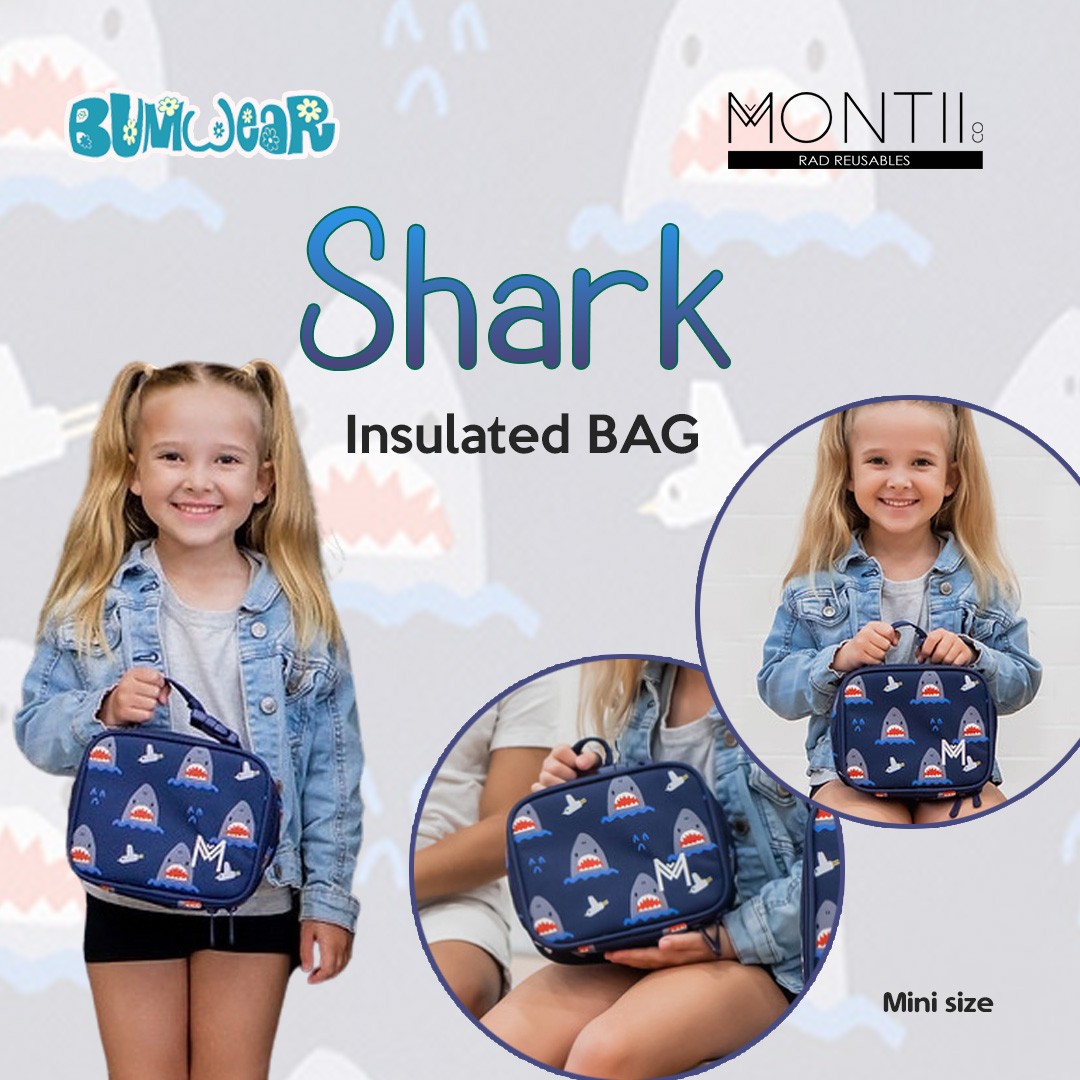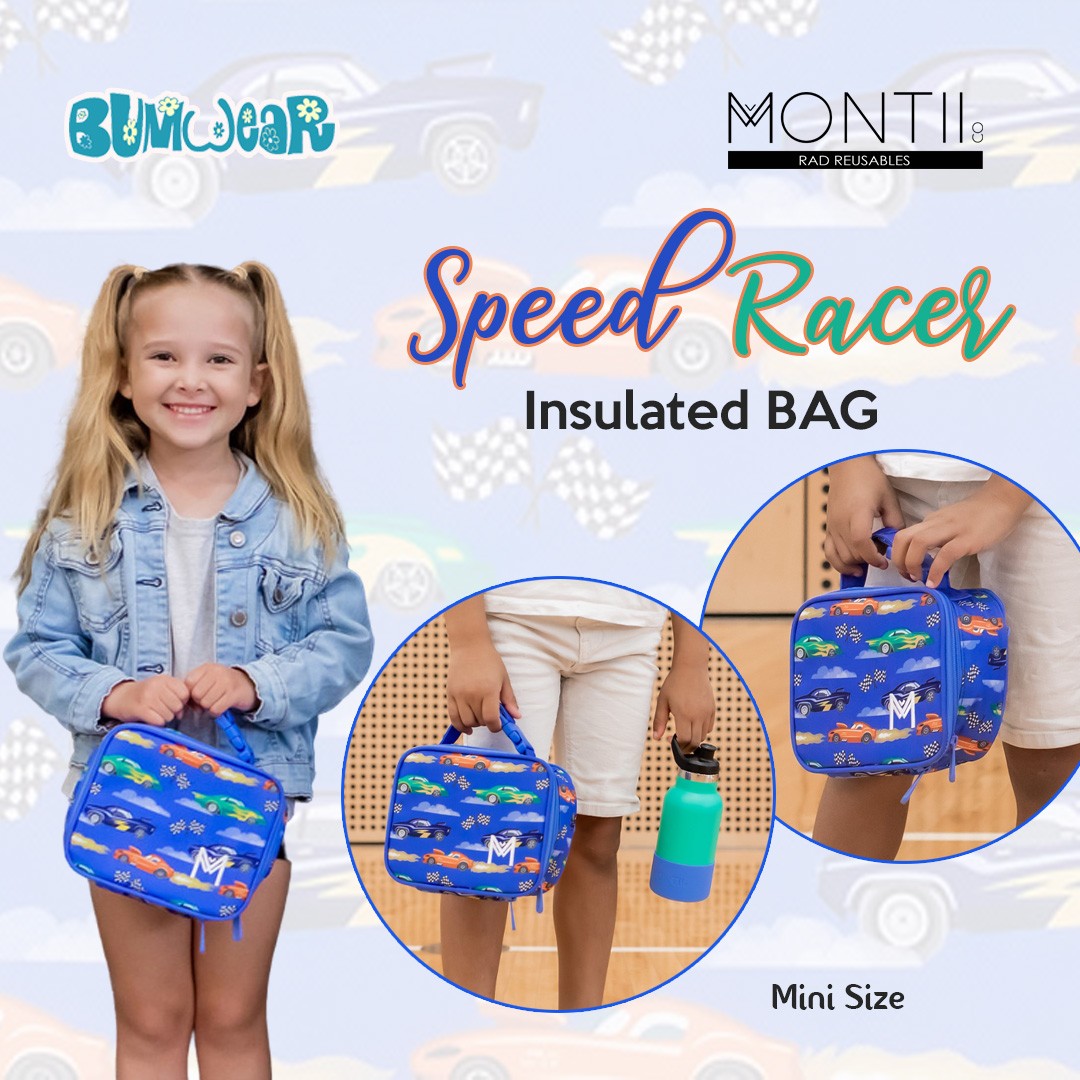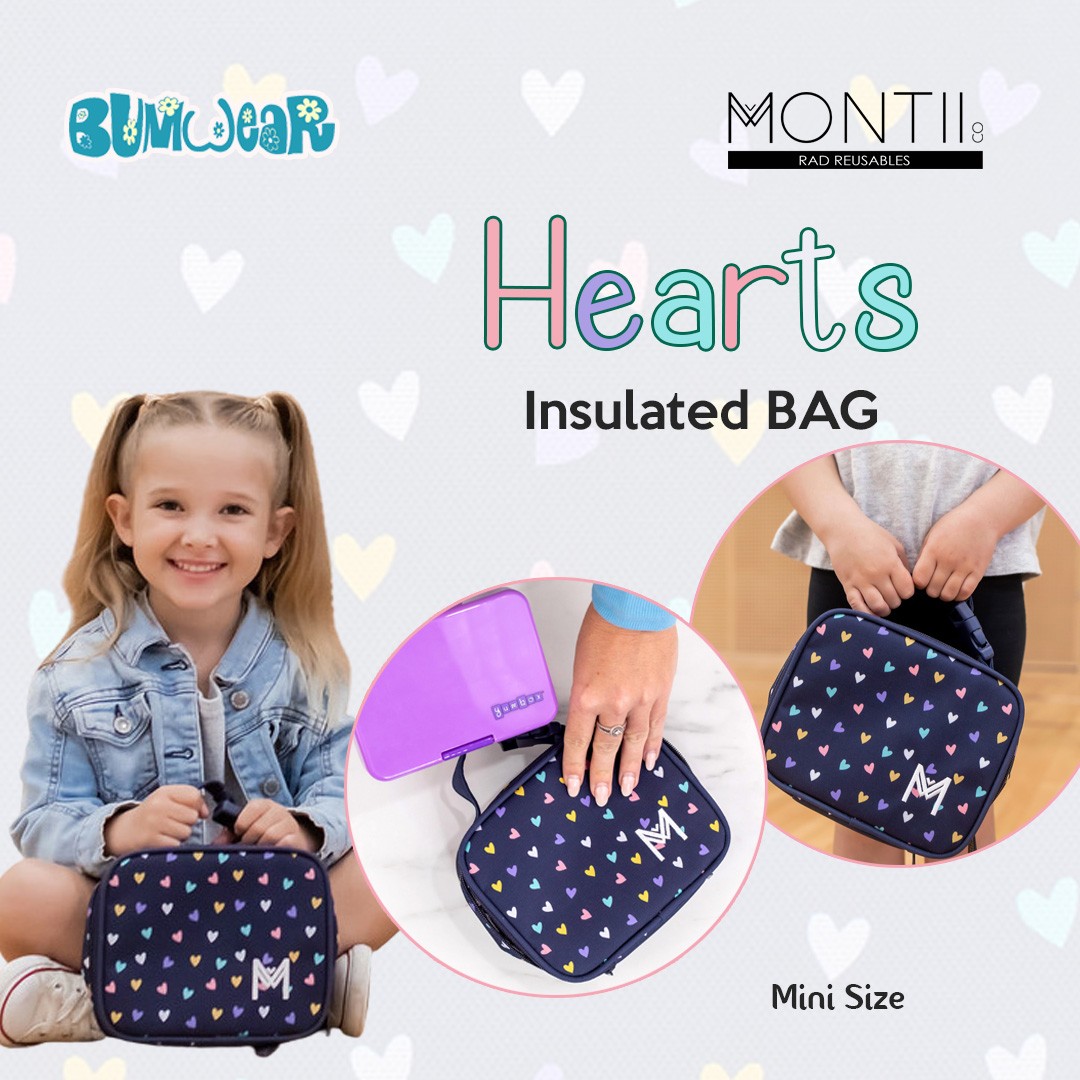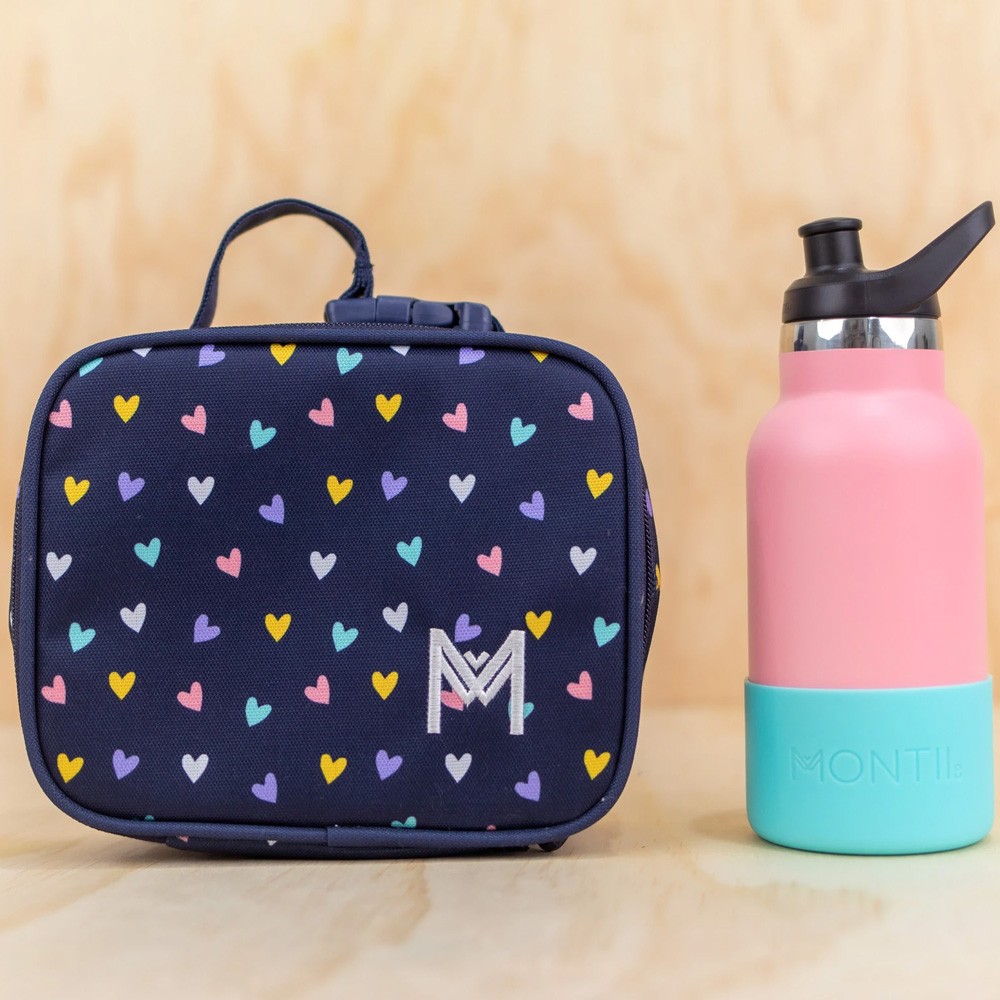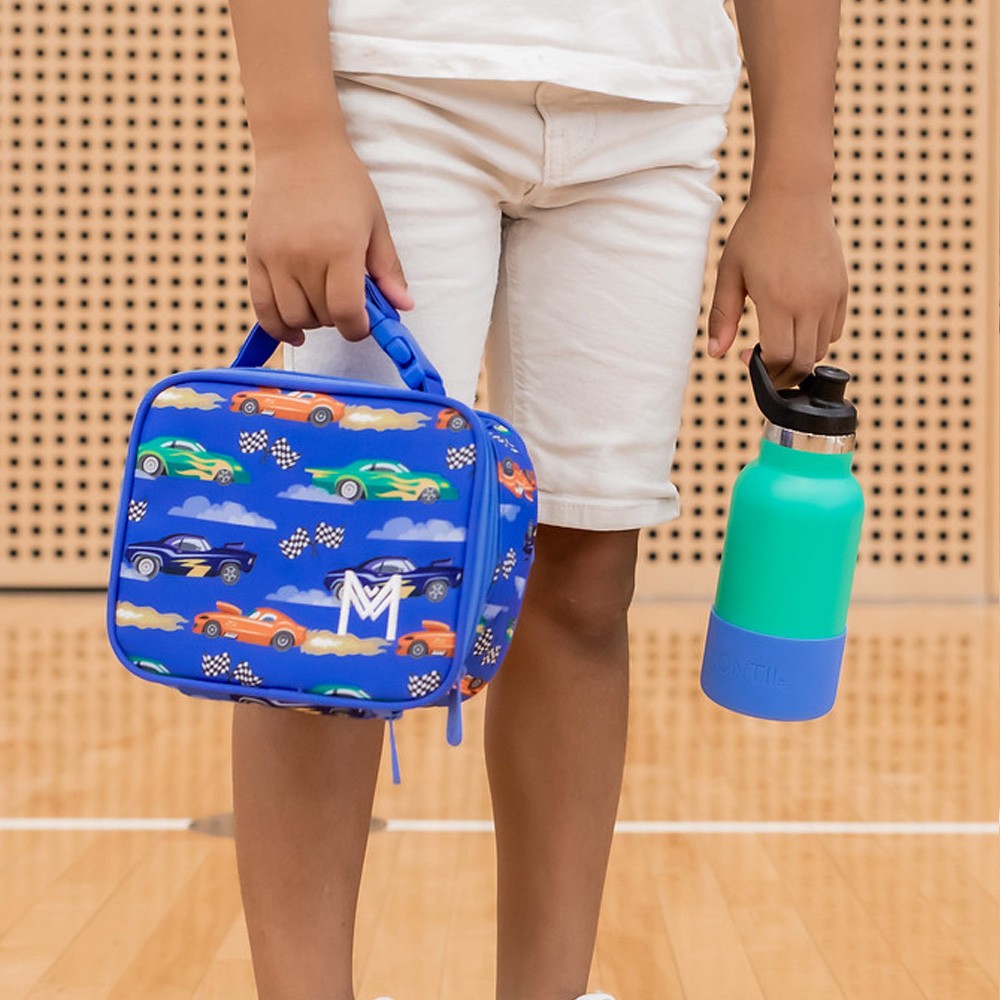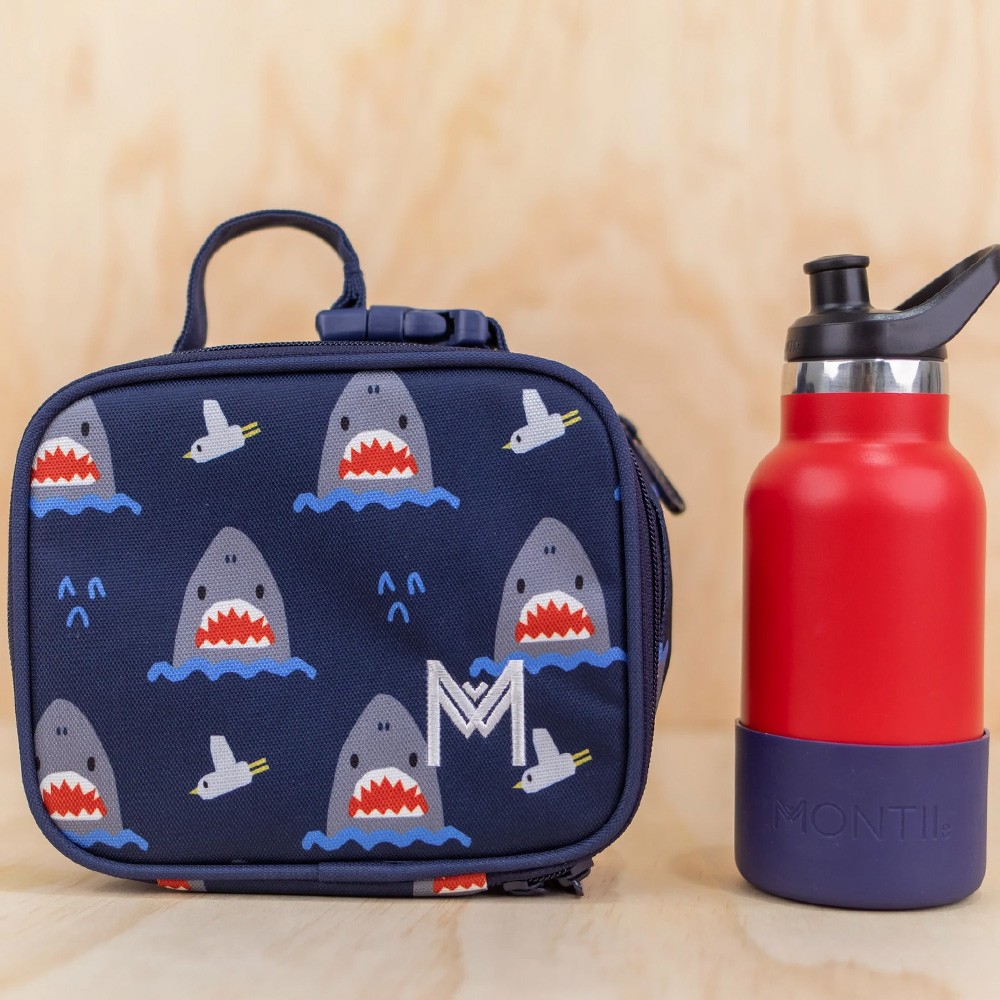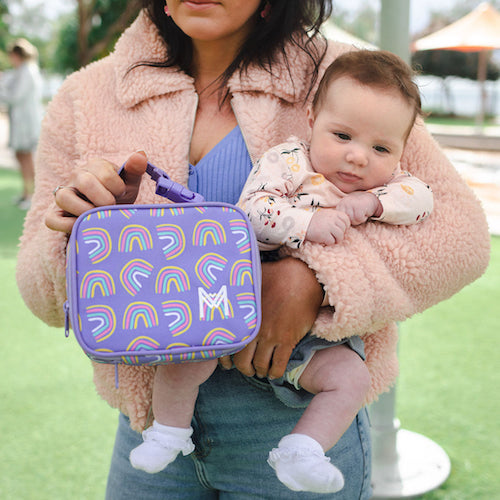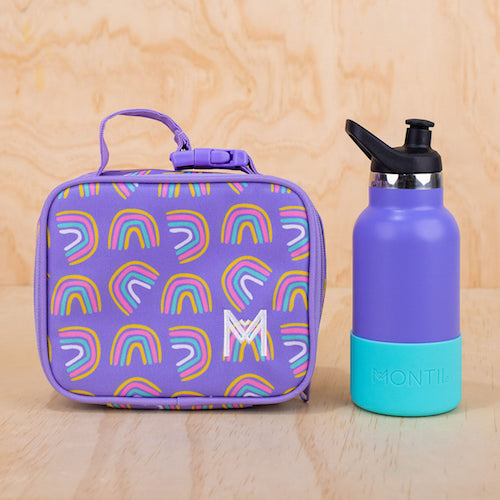 Made for adventures, our Mini Lunch Bag comes with a handy clip handle to attach to backpacks and prams. Take them far and wide, we've made sure they can handle the Aussie heat! Plus, there's no need to worry about lastability, we've got it covered with the raddest premium materials that have been fully tested for durability.
Bag measurements:
Inside - 15cm x 17cm x 6cm
Outside - 16.5cm x 19.5cm x 8.5cm
Internal Volume - 2L or approx 8 cups.
Weight including ice pack - 275g

Wondering if your lunch box will fit in our lunch bags? Check out our handy lunch bag size guide to see which size is best for you.

Here's why MontiiCo Mini Cool Bags are so rad:
- NEW Water Resistant fabric for better performance against dirt and grime
- Machine Washable - Pop 'em in, keep them clean!
- Self-contained gel ice pack - independently certified "food safe" and newly improved outer layer for the same great performance, now even better quality
- Lightweight and compact - perfect for play dates, trips to the park or after school snacking
- A handy clip handle to attach to backpacks and prams
- Cutlery loops to hold mini cutlery neatly in place
- Our Mini sized bags are less than half the size of our Large lunch bags, making them the perfect snack bag size!
- Durable fabrics (they passed the rough + tumble test with flying colours)
- Quality aluminium lining. No plastic comes into contact with your lunch
- Thick insulation to keep contents cooler + fresher for longer
- Easy to wipe clean, for a mess-less life
- Separate pocket for the ice pack. No condensation = No soggy food
- Robust, easy to open custom Montii zippers
- On trend custom prints
- Made to last
WHERE ARE YOUR PRODUCTS MANUFACTURED?

Our products are designed in Australia and responsibly manufactured in China. We have stockists and distributors worldwide.
DO MONTIICO INSULATED LUNCH BAGS INCLUDE AN ICE PACK?
Yes! All MontiiCo lunch bags come with an ice pack included. Our self-contained gel ice pack has been independently certified "food safe". It comes in its own cosy black cover and fits like a dream in our cool bags.
Each MontiiCo lunch bag size (Large, Medium and Mini) comes with a different size ice pack designed to fit each bag.
Our Insulated Cooler Bags come with a Medium ice pack.
DO YOU SELL THE MONTIICO ICE PACKS SEPARATELY?
Yes we sure do! You can purchase a spare ice pack on our website. You can also use different size Ice Packs in different size lunch bags as below:
-The Mini Ice Pack fits in all 3 bags. 
-The Medium Ice Pack fits in all 3 bags, making it a lighter option for our Large bag, and a longer cooling time option for our Mini bag. Our Medium Ice Pack also fits our Insulated Cooler Bag.
-The Large Ice Pack fits in our Large bag and as a tight fit in our Medium bag.
HOW DO I USE MY MONTIICO INSULATED LUNCH BAG?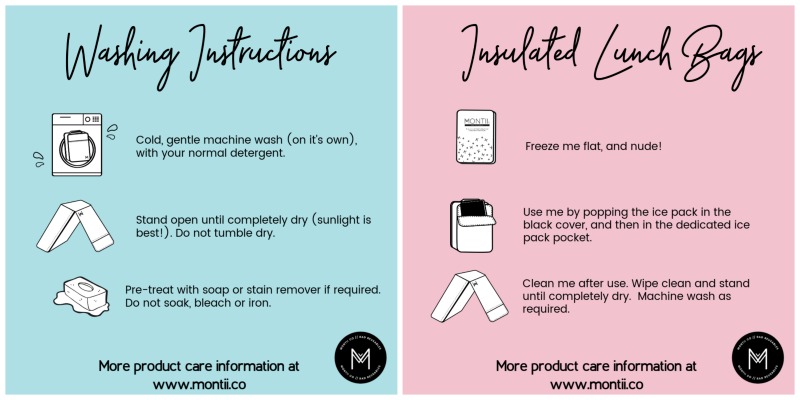 Always place the included ice pack inside the black fabric ice pack cover before using inside the lunch bag. The cover is designed to reduce the amount of condensation that forms inside the bag, and assist in keeping lunches dry and fresh.
Cutlery and other sharp items should not be stored in your lunch bag, as this may damage the lining of your bag, and is not covered by warranty.
Your ice pack should be frozen flat and nude (Remove the black ice pack cover). Should you notice water or ice on the outside of the cover, we recommend airing it out and only placing inside the bag if 100% dry. Placing a wet or icy cover inside the bag will increase condensation and may make your lunch or the lunch bag wet.
For maximum cooling power, ensure the lunch bag is completely zipped closed as much as possible. Small changes such as removing the lunch box from the bag to eat from it (rather than leaving the whole bag unzipped for lunch time) can dramatically increase the amount of cold air that stays inside the bag.
When you are finished using your lunch bag, wipe it clean and stand upright to dry thoroughly. Our bags can be machine washed, and doing so regularly may prolong the life of your bag - by removing any embedded dirt or food particles from the fabric. 
DO ALL MONTIICO INSULATED LUNCH BAGS HAVE A DEDICATED ICE PACK POCKET?
Yep, they sure do! The ice pack comes in its own cosy black cover and fits like a dream in our cool bags, in a separate ice pack pocket. No condensation means no soggy food!
Our Insulated Cooler Bags have a mesh inner pocket to hold the ice pack.
DO YOU HAVE ANY TIPS FOR KEEPING MY LUNCH SUPER COLD IN MY MONTIICO INSULATED LUNCH BAG?
MontiiCo bags are cool, real cool! Here's some tips to make sure the coolness stays in!
Be sure to keep the bag zipped up closed whenever possible so ensure the coolness stays inside the bag and doesn't mix with the outside hot temperature.
Ensure your ice pack is fully frozen before placing in the lunch bag. Overnight should suffice, or you can just store it in the freezer when not in use.
WHAT IS THE WEIGHT OF YOUR LUNCH BAGS EMPTY?
Our Large Lunch Bags weigh 775g including the large ice pack.
Our Medium Lunch Bags weigh 415g including the medium ice pack.
Our Mini Lunch Bags weigh 275g including the mini ice pack.
Our Cooler Bags weigh 550g including the medium ice pack.

Cleaning
Regular cleaning will extend the life of your bag by removing dirt and food particles from within the fabric before they grow into mould.

Our lunch bags are machine washable - so it couldn't be easier to keep them clean! They're a little shy and need to be washed on their own, in cold water, on a gentle, longer cycle. Fast cycles tend to have a vigorous spin which can damage the lunch bag. 
Normal detergent is fine, but please don't put in any fabric softeners or stain removal products as this may discolour your bag. Do not bleach, soak or iron.

If your usual wash doesn't remove staining, make a paste from laundry powder and water and apply it directly to the stained area. Gently brush into the stain, taking care not to damage the fabric. Leave for 15-20 minutes before machine washing.

Drying
Bags should be dried standing (like a tent!) or flat and open - fabric side up. We love to dry ours outside on the washing line! Please don't put your bag in the dryer! It may shrink, melt or come back looking nothing like it did before.
ARE MONTIICO ICE PACKS FOOD SAFE?
Yes! Our ice packs are certified as food safe by the FDA and CE. We can provide copies of the certificates, and a material safety data sheet for international shipping if required.
Montiico: Insulated Mini Lunch Bag
Brand: Montii
Product Code: Montii Lunch Bags Option
Reward Points:

31

Availability: In Stock
S$ 34.27

Price in reward points: 3395
Tags: Montiico, Mini Insulated Lunch Bag