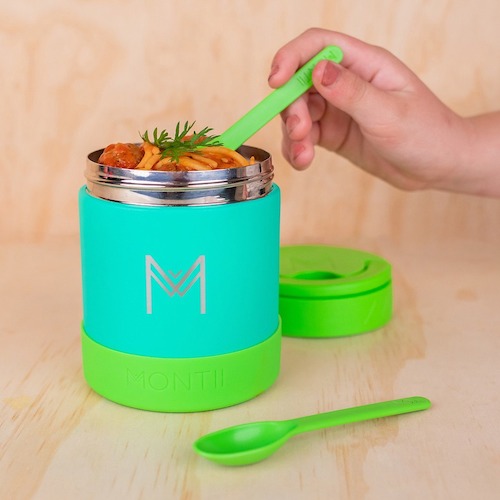 .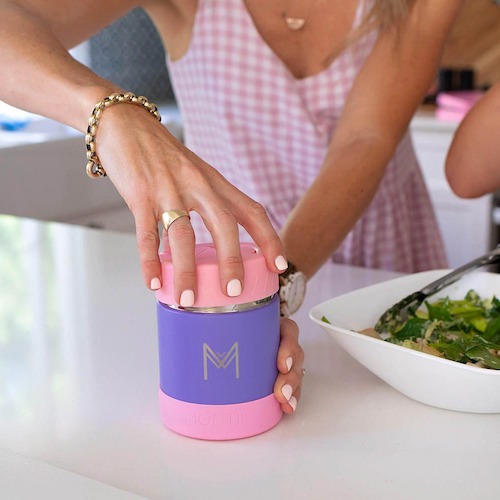 Take your lunch to the next level with this snazzy Insulated Food Jar in our newest shade of navy.

Keeping warm food toasty, or cold food chilled. His flip-up handle gives extra ease of opening, especially for little hands. This guy will have the hottest food (literally) in the playground! With his own silicone bumper base, to keep him lookin' his best. He's looking fine and ready for lunchtime!
Food Jar dimensions: 12.5cm x 8.5cm 
Gift box dimensions: 14cm x 10cm x 10cm
Here's why our Fruity Pop colours are so epic:
- New DISHWASHER SAFE paint
- 400ml Capacity
- Vacuum insulated, double-walled stainless steel
- Scratch and dent resistant finish
- Wide mouth opening - easier to get food in and out!
- Flip-up handle - easy to carry and gives extra leverage when opening
- Removable (and replaceable!) silicone seals for easy cleaning - no hidden nasties!
- 5 hours of warming, 7 hours of cooling
- Silicone bumper base - extra protection against drops, rubs and scruffs (keeps him lookin' mighty fine!)
- Dishwasher safe to 70°C.

CAN I USE FOR HOT AND COLD FOODS?
Yes! Our MontiiCo Food Jars are double-walled, vacuum insulated (also known as thermally insulated), meaning they are suitable for hot and cold food – perfect for year-round use. 
SHOULD I PRE-WARM MY FOOD JAR?
We recommend pre-warming your Food Jar,  just prior to use with boiling water. Attach lid and let stand for 10 minutes, then empty

After pre-warming, fill your food jar and replace the lid for maximum insulation efficiency
Keep lid in place as much as possible to keep your food warm.
WARNING: Always exercise caution with hot foods to avoid burns and scalds.
HOW DO I WASH MY MONTIICO FOOD JAR?
Wash and rinse your Food Jar thoroughly before first use, and after each use. 
Food Jars in our Fruity Pop range are dishwasher safe to 70°C. Be sure to remove the bumper and place it separately to your food jar in the dishwasher, to avoid water getting trapped between the jar and the bumper.
Please refer to the cleaning instructions on your MontiiCo product packaging. Food Jars that are not in the Fruity Pop range are not suitable for the dishwasher - this can damage the finish and void your warranty. 
The seal in the Food Jar is removable, we recommend removing to ensure no food is stuck underneath the seal.
Always store your MontiiCo food jar empty, and completely dry inside. We recommend storing your empty food jar without the lid affixed.
Montiico Food Jar
Product Code: Montii Food Jar Option
Reward Points:

26

Availability: In Stock
S$ 30.23

Price in reward points: 2995
Tags: Montii Food Jar