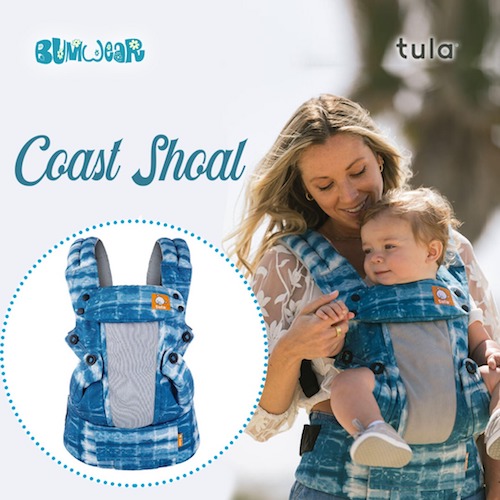 Escape to a tropical dream! Large scale flowers and palms decorate a vintage blue background in our popular Explore carriers.

Features & Specifications

1. Every carry position your baby will need, including facing out
Multiple positions to carry baby including front facing out*, facing in, and back carry. Each position provides a natural, ergonomic position best for comfortable carrying that promotes healthy hip and spine development for baby.
2. Innovative body panel with an easy-to-adjust design
Adjusts in three width settings to find a perfect fit as baby grows from newborn to early toddlerhood.
3. Padded, adjustable neck support pillow
Can be used in multiple positions to provide head and neck support for newborns and sleeping babies.
4. Breathable & lightweight cotton
Responsibly designed and made with care from soft and breathable 100% cotton that's easy to clean and machine washable.
5. Padding where needed for extra comfort
Padded shoulder straps provide optimal neck & shoulder comfort and offers quick adjustments for multiple wearers. Wide padded waistband helps evenly distribute weight. Padded leg openings to keep baby comfortable.
6. Waistband pocket and removable hood
Large pocket on the waistband to store necessities. Coordinating removable hood with snaps to support baby's head while sleeping, sun protection while out and about, and extra privacy while feeding baby.
* Before beginning to use the Explore Carrier in the facing out position, your baby should have head and neck control and their chin should clear the top of the panel when facing out. We also suggests a weight range for the facing out position of  5.8kg - 10kg for shorter intervals of time for optimal comfort. Watch baby for signs of sleepiness or over-stimulation. Baby should not sleep in the front carry facing out position.
Depending on the snap setting, the seat panel width is adjustable from 13 - 38 cm/5" - 15".
Depending on the neck pillow placement, the height of the panel is 34 cm/13.5" tall when the pillow is snapped down and 43 cm/17" when snapped up.
Hip Belt Measures 13 cm/5" tall and 69 cm/27" wide. Additional webbing extends approximately 76 cm/30" (waistband total of ~ 145 cm/57" long)
Weight of the carrier: 0.8 kg/1.7 lbs
Tula: Explore - Coast Shoal
Brand: Baby Tula Inc
Product Code: Tula Explore
Reward Points:

258

Availability: In Stock
S$ 279.00

Price in reward points: 27900
Tags: Tula, Baby Tula, Front Facing Carrier, Explore, Coast Shoal, Baby Carrier