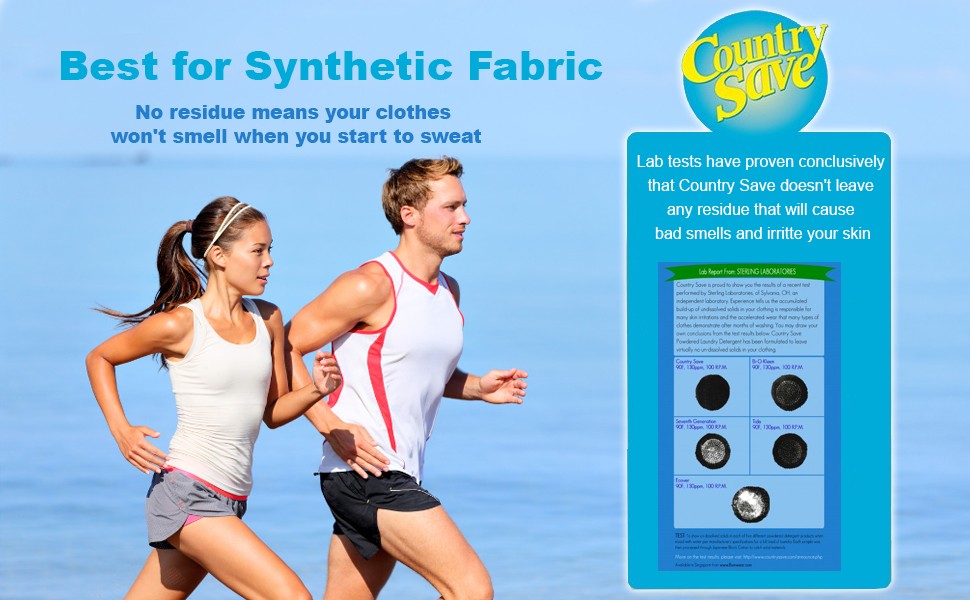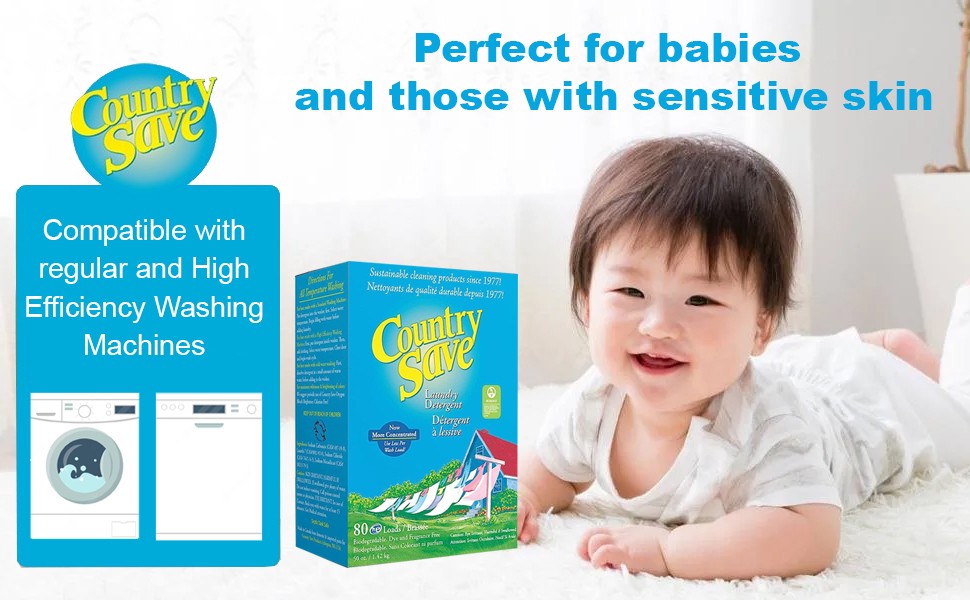 Many people wonder what really makes our laundry detergent better and, most importantly, how can we put such a small scoop in the box and expect people to use just one scoop... or less, depending on the application. It comes down to this: There are no hidden ingredients but there is a special way in which the ingredients are mixed together to create a formula that dissolves completely, cleans your clothes to your expectation level and then rinses completely out of your clothes to leave no residue that can be irritating for many, many reasons. (Who wants to wear laundry soap?)
We offer a 80 load-wash or a 160 load-wash box of Country Save Powdered Laundry Detergent. We believe that we offer one of the best high efficiency detergents available; it is great for washing cloth diapers, eco-friendly, and dye and scent-free. When you see your Cost Per Wash you will understand why Country Save washing detergent is the BEST VALUE for you and your family!
Detergent Information
Country Save Powdered Laundry Detergent has specifically been formulated to be compatible in HE / Front Load Washing Machines. As many of you know, the new HE washer machines may also be top load. Country Save Powdered Laundry Detergent is a low-suds formula designed to work in any HE environment.
It is also good to remember just what "HE" means. It is the shortened form of "High Efficiency" and it pertains specifically to the amount of water the washing machine uses. In most cases, speaking generally, it means that only 25-50% of the water used in a standard top-load washer is used in an HE machine. That explains why you only need a 1/2 scoop of Country Save in an HE machine... or at least you can start there and go up or down depending on your specific needs.
Cloth Diapers
Cotton Diapers and Country Save Powdered Detergent go together like Mom & Apple Pie! We have been recognized in hundreds of blog sites as being the product that most Moms love for washing cloth diapers and baby clothes while getting the results they want....and all for the same reasons they like it for grown-up clothes; no residue, no fragrance, fresh smell and clean!
For Best Results
Put Country Save Laundry Detergent in washer first. Begin filling with water before adding clothes.
Cold Water Washing Tip
First dissolve Country Save Laundry Detergent in a small amount of warm water.
Hard Water Washing Tip
Use 50% more Country Save Laundry Detergent than directed. The amount may vary depending on your water hardness. Using warmer water may also help.
Country-Save Detergent
Zero Perfumes
There should not be any smell left after for a good wash, perfumes mask out the smell of a bad wash. Perfumes coat the clothing with a residue which often repels absorption and sometimes react with sweat to form a solution that is allergic to the wearer.
Zero Phospahtes
Environmentally friendly to the earth detergent, as phosphates cause eutrophication of waterways.
80 wash per box for HE machines
If you use a front-load HE wash machine, each box of 5lb, can last you 80 washes.
Zero Softerners
Softeners are NOT necessary agents for a good wash and are often used when the undissolved powdered residue is caught in clothing, stiffening them upon drying. Softeners are the main culprit in clothing losing their ability to become absorbent. They feel soft, but coating by its chemical nature repels fluids upon contact.
Zero Emzymes
Enzymes are great for removing organic, such as food, mud, blood markings in cotton, however, they also degrade the care for synthetic clothing, such as nylon, elastics, delicate wear, and cloth diapers.
Country Save: Package - Buy 4 boxes Get 1 FREE
Brand: Country Save Inc
Product Code: Country Save Buy 4 and get 1 free
Reward Points:

111

Availability: In Stock
S$ 199.50

S$ 159.60 - Your Special

Price in reward points: 11920
Related Products