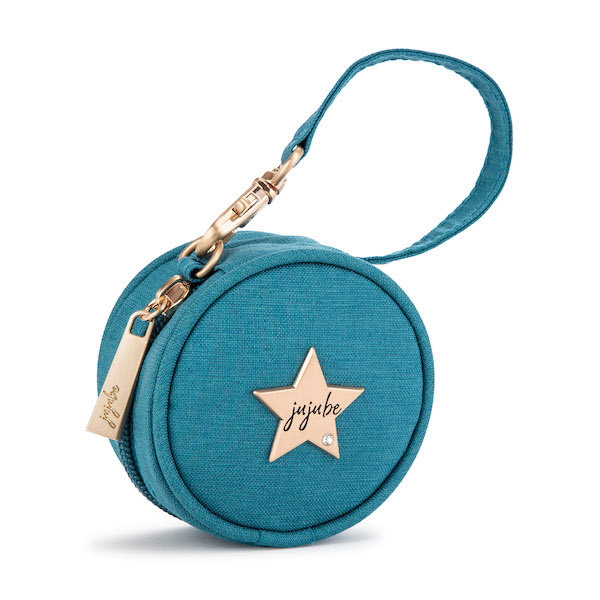 We've all been there: baby is getting fussy and you're stuck digging through a bottomless diaper bag to find their pacifier among everything else you own. With our paci pod, you'll be able to find your child's pacifier in no time, and keep it clean and free of debris. Keep that ever important pacifier handy wherever you go with cute pacifier pod styles from JuJuBe!
Pacifier Pods With Smart Design
We've considered every aspect of design in each of our one-of-a-kind pacifier pouch styles with features that offer unparalleled convenience and safety. The Agion-lined interior of our paci pods keeps away mold, mildew, and bacteria, while the Teflon-coated exterior fends off stains to help make it easy to clean. Elastic straps inside the pod allow you to store two pacifiers in one secure place (because we know how they tend to get lost!)
Adorable Styles and Easy Care
We have pacifier pods to coordinate with many of our most popular patterns, or you can choose a contrasting option for a fun mix-and-match look. Chic details like metal hardware add polish and sophistication, and the handy wristlet strap allows you to easily hold your pod, fasten it to your stroller handle, or attach it to a bag strap. And, when it's due for a cleaning, simply throw your paci pod into the wash and it'll soon be good as new!
Features & Specifications
Pockets – 

Zippered main compartment

Fabrics – 

Light-colored lining; Agion-treated interior resists bacteria, mold and mildew; Teflon-treated exterior resists stains

Straps – 

Wristlet strap; 2 elastic straps inside

Hardware – 

Metal hardware; Swivel clip on wristlet strap

Dimensions – 

3"W x 3"H x 1.75"D

Weight – 

1 pound

Extras – 

Machine washable; Limited lifetime warranty
Jujube: Teal Lagoon - Paci Pod
S$ 35.00

S$ 25.93 - Your Special

Price in reward points: 2800