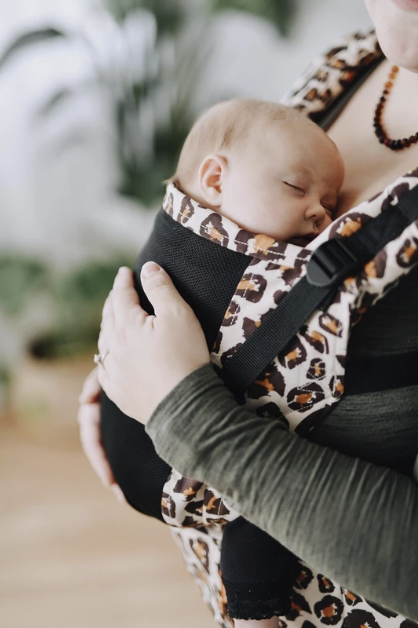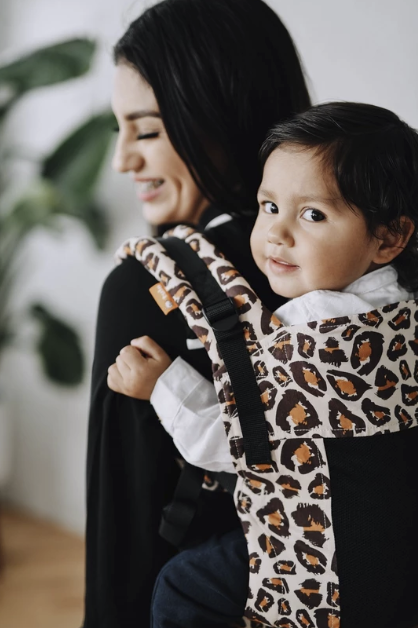 Coast Peggy has a distinct style for you! It's all over leopard print is paired with breathable black mesh to provide you and baby with added airflow for your wild adventures.
1. Stay cool mesh carrier panel
Large mesh panel provides extra ventilation for optimal breathability to keep wearer and baby cool
2. No bulk, innovative body panel
Adjusts in three width settings and two height settings to allow for an ergonomic snug position from newborn, infant and early toddlerhood
3. Adjustable, padded shoulder straps
Provides optimal neck & shoulder comfort and offers quick and easy adjustments for multiple wearers
4. Multiple ergonomic positions
Back carry and front carry options to provide a natural, ergonomic position best for long term, comfortable carrying that promotes healthy hip and spine development for baby
5. Easy-to-adjust design
Multiple adjustment capabilities to find your perfect fit as baby grows. Can be used from 3,2 - 20,4 kg, no infant insert required
Depending on the snap setting, the seat panel width is adjustable from 13 cm - 38 cm wide
Depending on the panel height adjusters, the height of the panel is adjustable from 28 - 43 cm tall
Hip Belt Measures 13 cm tall and 69 cm wide. Additional webbing extends approximately 76 cm (waistband total of ~ 145 cm long)
Weight of the carrier: 0,8 kg
Tula Carrier
Tula Warranty
All Tula products have a 1-year warranty against manufacturing defects. In the rare instance in which there is a manufacturing issue or defect, Tula will work with you to provide you with a refund, repair, or exchange. Tula products are handmade and may have slight variations that do not affect their use or safety. Normal wear, fabric fading, minor size differences, common/normal wrap nubs or flaws, and sewing varieties are not considered manufacturing defects and are not covered under the warranty. Tula is not responsible for warranty coverage if the product has been altered in any way. The term altered is defined as including, without limit, dyeing, painting, embroidery, and fabric additions or removals made after purchase. Tula is also not responsible for warranty coverage for any item that has been purchased secondhand. Email: help@babytula.com
Tula Brand
As an award-winning industry leader, Tula is proud to offer the most beautiful, easy-to-use, versatile, and long-lasting carriers which provide a comfortable, ergonomic method of supporting the bond between caregiver and child from birth through 4 years old and beyond. Tulas are available in a variety of prints, making them both useful and stylish! Tula is proud to meet and exceed safety standards and norms and is a business member of the Baby Carrier Industry Alliance (BCIA).
Tula: Free To Grow - Coast Peggy
Brand: Baby Tula Inc
Product Code: Tula Free To Grow
Reward Points:

242

Availability: In Stock
S$ 259.00

Price in reward points: 25900
Tags: Tula, Baby Tula, Singapore Tula, Free To Grow Carrier, FTG, Coast Peggy