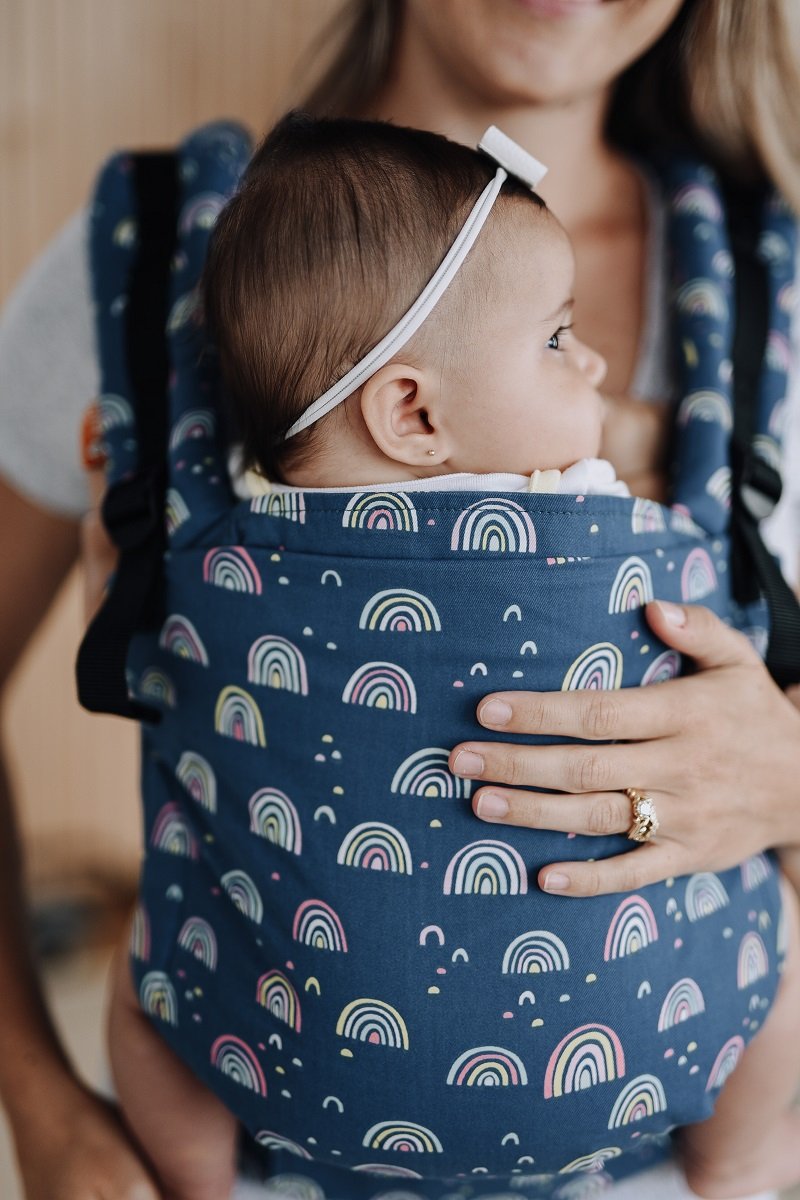 *Preorder is expected to arrive in Feb 2019

Parenting is complicated enough! Treat yourself to the Tula Baby Carrier, offering you ease-of-use in multiple positions, ultimate comfort, and various patterns to best complement your style. Tula's streamlined and fully adjustable design has been carefully crafted to ensure comfort for you and your child, from birth into toddlerhood.

Join the many families who have found the ultimate baby carrier that doesn't over-complicate quality, comfort, and style. Find your fit, choose your style, and keep on doing what you love!

Free-to-Grow Baby Carrier Features:

• Body panel adjusts in three width settings and two height settings to allow for an ergonomic snug position as your baby grows, supporting safe development for baby's body
• Adjustable padded straps for optimal neck & shoulder comfort
• Breathable and lightweight twill hand-made from 100% OEKO-TEX® Standard 100 certified fabric
• Multiple carrier positions - back carry and front carry
• Soft leg padding to keep baby comfortable
• Free-to-Grow baby carriers can be used from 7 - 45 pounds
• Coordinating printed twill base and removable hood with snaps
• Large front pocket on the contouring hip belt

We do not recommend back carrying your child until your baby has strong and consistent head, neck, and torso control, and can push him or herself independently into, and remain in, a seated position on a consistent basis.

Baby Carrier Product Measurements:

• Depending on the snap setting, the seat panel width is adjustable from 5" - 15".
• Depending on the panel height adjusters, the height of the panel is adjustable from 11" - 17" tall.
• Hip Belt Measures 5" tall and 27" wide. Additional webbing extends approximately 30" (waistband total of ~ 57" long).
• Weight of the carrier: 1.7 lbs.

About Baby Tula

As an award-winning industry leader, Tula is proud to offer the most beautiful, easy-to use, versatile, and long-lasting carriers which provide a comfortable, ergonomic method of supporting the bond between caregiver and child from birth through 4 years old and beyond. Tulas are available in a variety of prints, making them both useful and stylish! Tula is proud to meet and exceed safety standards and norms, and is a business member of the Baby Carrier Industry Alliance (BCIA). 

Warranty:
All Tula products, including Tula Wrap Conversions, have a 1 year warranty against manufacturing defects. In the rare instance in which there is a manufacturing issue or defect, Tula will work with you to provide you with a refund, repair, or exchange. Tula products are handmade and may have slight variations that do not affect their use or safety. Normal wear, fabric fading, minor size differences, common/normal wrap nubs or flaws, and sewing varieties are not considered manufacturing defects and are not covered under the warranty. Tula is not responsible for warranty coverage if the product has been altered in any way. The term altered is defined as including, without limit, dyeing, painting, embroidery, and fabric additions or removals made after purchase. Tula is also not responsible for warranty coverage for any item that has been purchased secondhand. Email: help@babytula.com 

Tula Carrier
Facing Positions
This award-winning Free-To-Grow carrier builds upon the earlier designs that won Baby Tula its place in the world as one of best fitting baby carrier anyone can own. The child is carried ergonomically, like how all primate mammals have in the past and still do today, facing in towards the caregiver. Carried close, protected and loved.
Width Settings
Innovative body panel with an easy-to-adjust design that allows the carrier to be sized into three width settings, which can be used from an infant 3.2 kg – without an infant insert, to a 20 kg or about 4-year-old child.
Back-support
The Free-To-Grow uses an effective front panel adjuster to extend or shorten the length of the panel that supports the child's back. When adjusted correctly, the panel allows the child's neck to be supported from his/her shoulders to just under the child's ears.
Padded Waistband
The FTG padded waistband is another designed carried over from the Standard and Toddler carrier that evenly distributes the babies weight so that you don't feel uncomfortable carrying the child.
Padded Shoulder Straps
Padded shoulder straps provide optimal neck and shoulder comfort for the caregiver carrying the child. The design carries over from the Tula Standard and Toddler carriers and is so well tuned that when worn correctly, you wonder where all the child's weight has gone to!
Padded Leg Openings
Comes with padded leg openings keep the baby under thighs and knees from having red marks.
Carrier Hood
Matching removable hood with snaps to support your sleeping baby's head and frees your hands for holding other things. The hood cover also serves as sun protection while you are out and about can also afford some privacy while you breastfeed your baby
Pocket Waistband
Large front pocket waistband to store some necessities that you may need to conveniently and quickly reach out for when required.
Made
Responsibly designed and made with care from soft and breathable 100% cotton that's easy to clean and machine washable.
Tula Free-To-Grow - Dreamy Skies
Brands Baby Tula Inc
Product Code: Tula Free To Grow
Reward Points:

259

Availability: In Stock
S$ 259.00

Price in reward points: 25900
Tags: Tula, Free-To-Grow, dreamy skies