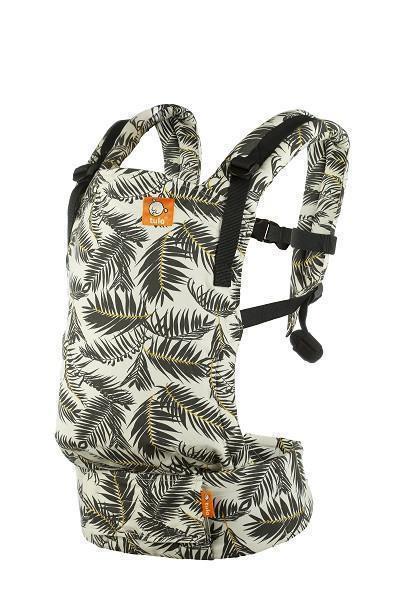 A playful game filled with surprise provides inspiration for this exclusively designed print. Hide and Seek has graceful shadows of palm leaves brushing across a cream backdrop. Some of the palm stems are traced in a gold tone, adding an unexpected element to this modern design. Hide and Seek is an all over design with the print continuing across the inner shell of the carrier and the detachable hood.
1. Innovative body panel
Adjusts in three width settings and two height settings to allow for an ergonomic snug position from newborn, infant and early toddlerhood
2. Dual-adjustment padded shoulder straps
Provides optimal neck & shoulder comfort and offers quick and easy adjustments for multiple wearers
3. Breathable & lightweight material
Responsibly designed and made with care from soft 100% cotton fabric
4. Multiple ergonomic positions
Back carry and front carry options to provide a natural, ergonomic position best for long term, comfortable carrying that promotes healthy hip and spine development for baby
5. Wide padded waistband
Provides superior comfort to help evenly distribute weight, also includes large front pocket
6. Extra leg padding
Keeps baby comfortable to allow for longer wearing
7. Easy-to-adjust design
Multiple adjustment capabilities to find your perfect fit as baby grows. Can be used from 3.2 - 20 kg, no infant insert required
8. Coordinating base & hood
Twill base with coordinating removable hood with snaps to support head while sleeping, sun protection while out and about, and extra privacy while nursing
* This carrier is not designed for the front carry facing out position, for this option see our Explore Baby Carrier.
Depending on the snap setting, the seat panel width is adjustable from 12cm - 38cm wide
Depending on the panel height adjusters, the height of the panel is adjustable from 27cm - 43cm tall
Hip Belt Measures 12.5cm tall and 68.5cm wide. Additional webbing extends approximately 76 cm (waistband total of ~ 145 cm long)
Weight of the carrier: 0.77 kg / 1.7lbs
Tula: Free To Grow - Hide and Seek
S$ 259.00

Price in reward points: 25900
Tags: Tula, Free To Grow, Hide and Seek, Ergonomic Baby Carrier