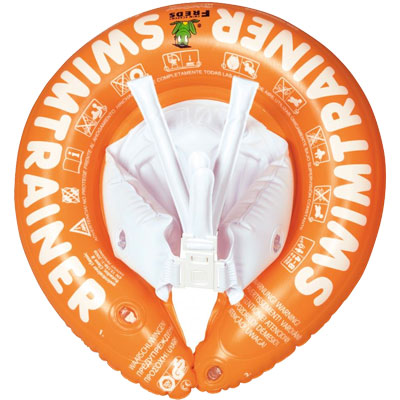 For intermediate swimmers
Chest size smaller than 56cm
Age: 2 to 6 yrs old
Weight: 15 to 30kg
Price: S$49.90
Develop Your Baby's Confidence in the Water
SWIMTRAINER "Classic" supports your baby in the ideal swimming position, which allows your baby to float correct, and move easily. This then allows your baby to develop confidence in the water. Soon, your baby learns how to move forward, turn and stop in the water.
Promotes Independent Play
SWIMTRAINER "Classic" develops independence in the baby. You can help to instil independence in your baby by putting a bath or pool toy in front of your baby and watch them move to reach for the bath toy.
Promotes the Frog Kick Reflex
Babies at about 6 months old have a frog-kick reflex. SWIMTRAINER "Classic" helps to promote this reflex movement in your baby. While on the SWIMTRAINER "Classic", your baby's legs are free to move about, and perform the frog-kick that all of us associate with the breaststroke style kick.
Swim Trainer - Classic Orange
Product Code: Swim Trainer
Reward Points:

47

Availability: In Stock
S$ 39.90

Price in reward points: 4990
Tags: Swim Trainer, Classic Orange, Beginner, 2 to 6 years old, 15 to 30 k