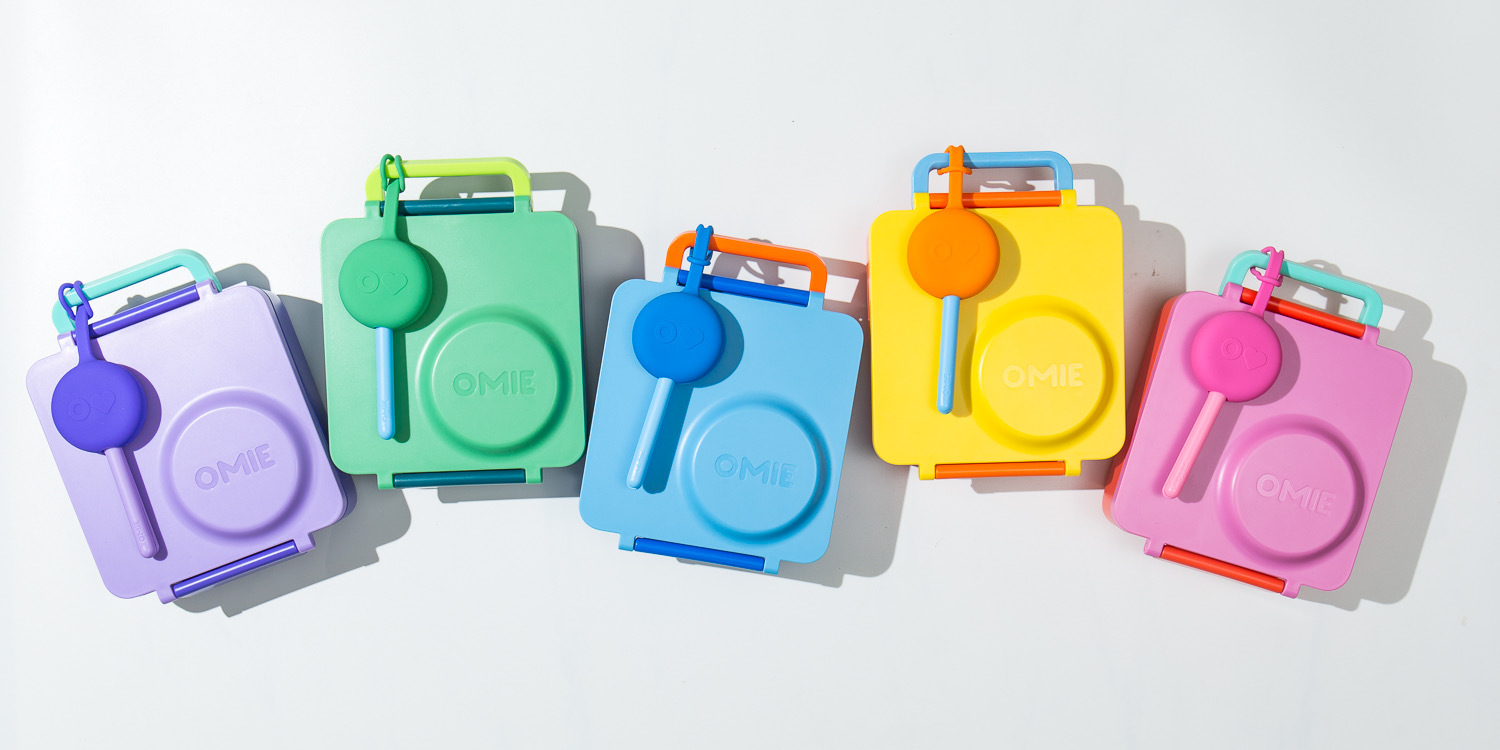 OmieBox is an insulated bento box for kids: 
Helps you pack healthier lunches with more variety.

Keeps food hot

 

and

 

cold in the same box.

Works well for sandwiches, soups, or both!

Helps kids be independent at school.

Is BPA, Phthalate-free and meets all FDA and CPSIA safety requirements
Product Specifications:
Weight: 1.7 lbs. with thermos, 1.4 lbs. without thermos

Dimensions: 8.5" W x 7.5" L x 3" D

Box volume: 47 oz., Thermos volume: 8.5 oz.

Square Compartment Volume: 21 oz

Long Compartment Volume: 16 oz

Short Compartment Volume: 10 oz

Materials: 18/8 304 grade stainless steel, ABS, PP, food grade plastic & silicon
Redesigned OmieBox Features


Our redesigned OmieBox is the bento you know and love with these improved features:
30% Bigger Thermos

:

 

now 8.5 oz (6.5 oz before)

Better Insulation: 

thermos keeps food warmer, longer. 
Easy To Open and Close:

 

the sealing system is completely redesigned so the seal sits on the bottom tray instead of the top lid. This makes the lid super easy to open - kids can do it with one hand. The seal is also much easier to disassemble for cleaning.

Updated Colors

:

 

same 5 colors, but updated for a more modern feel. The SKU and UPC codes remain the same.
Other Differences
Additional differences to be aware of include:
Thermos jar can now be used independently without the OmieBox.The thermos lid can now be screwed into the thermos directly, without the securing insert (the square piece). Whereas the thermos lid and securing insert were sold together previously, they will be sold separately from now on.

 
There is a small hole near the handle. This hole houses a microscopic GORE-TEX membrane which prevents trapped air from deforming OmieBox. The membrane only works in 1 direction, so while air can pass, it will not allow water or debris to enter OmieBox. Please do not try to poke the hole with sharp objects as this will damage the membrane.
The box does not come with the lid seal installed. The lid seal will be packed in a polybag and placed in the long compartment along with installation directions. Customers will need to clean the lid seal and install before using their redesigned OmieBox for the first time.
The round thermos lid gasket comes in only 1 color (clear)
The hot water and harsh detergents used in a dishwasher will cause some sensitive dimensions of the redesigned OmieBox to warp, therefore making the box no longer leakproof. We are very clear about this in the user instructions. If a customer accidentally puts OmieBox in the dishwasher it shouldn't cause any issues in the short term. However, we strongly recommend handwashing. Leaking caused by dishwasher use is not covered by warranty.
Spare Parts Are Not Interchangeable
One important difference to note is that spare parts are not interchangeable between OmieBox versions.
Care Instructions
Hand wash with warm soapy water and let everything dry completely.

There are two silicon seals in your OmieBox. There is one large square seal that goes around the perimeter of the box. The other is a round O-ring that goes around your thermos lid.

 

Both need to be removed daily for cleaning

. Wash in warm soapy water and let dry completely. Without daily cleaning, silicon is highly prone to mold growth which is irreversible and requires the part to be completely replaced. No biggie, we all get busy and forget sometimes. Should mold grow, just come to our website to buy spare seals - we'll keep plenty in stock for you.
OmieLife: OmieBox Redesigned V2
Brand: OmieLife Inc
Product Code: OmieBox Lunchbox Option
Reward Points:

65

Availability: In Stock
S$ 64.90

Price in reward points: 6500
Tags: Redesigned Omielife OmieBox Lunchbox V2, version 2, The Hot & Cold Lunchbox