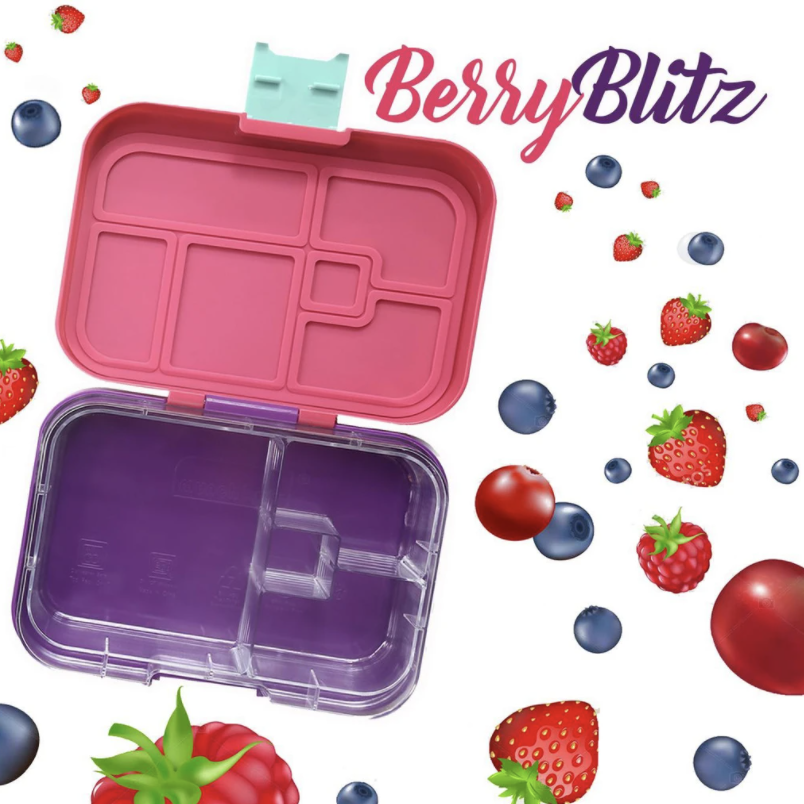 Colour Explosion! Featuring a berrylicious combo of purple and pink with contrasting aqua latch - Berry Blitz is an explosion of juicy enjoyment!
Make your lunches 'tri-colour cool' with our newest Munchbox Mini4 Trio Collection! 

Dishwasher safe (top shelf)
Holds 5 cups of food
Environmentally friendly, BPA & Phthalate-free
Child-friendly single latch
Sturdy removable Tritan tray
Leakproof sealed compartments
Portion controlled for balanced nutrition
Encourages healthy eating
The Munchbox Mini4 Trio Collection comprises of the newly designed TRI-COLOUR six compartment outer box that suits all FIVE interchangeable trays and the original clear, four compartment removable tray.
The six compartment outer box is an original design that has been created to grow with your child to ensure their changing nutritional needs are always met - only now it's even more funky!
Catering to those who prefer a full-sized sandwich or larger meal, accompanied by healthy snacks, the Mini4 Trio holds over five cups of food and is suitable for all ages!
The Mini4 Trio not only suits those bigger meal choices as the innovative design of the Munchbox interchangeable tray system means that the Mini4 can be used with each of the trays available! Making Munchbox the most versatile, original-concept design lunchbox in the world! 
The clear tray allows you to personalise your Munchbox by placing your own artwork or images underneath the tray, bringing a whole new range of themes and designs to your child's lunchbox or keeping it simple and more mature for those bigger kids.
Holding over five cups of food and featuring a sturdy, compact and child-friendly design in a range of stunning pastel colours, Munchbox Midi5 is designed to suit a range of different food items for those who want to pack bento-style but like their snacks bigger than bite-sized!
The Mini4 design accommodates:
1 x 3 cup serving - ideal for sandwiches, wraps, salads, sushi or pasta etc.
2 x 1 cup serving - suitable for any range of side dishes such as fruits, vegetables and yoghurt.
1 x small serving - suitable for dips, smaller snacks or special treats.
Mini4 Munchbox contains six compartment outerbox and the Mini4 tray. 
Size: 22 x 16 x 6 cm
Munchbox: Mini4 - Berry Blitz
Brand: Munchbox
Product Code: Munchbox
Reward Points:

42

Availability: In Stock
S$ 45.00

Price in reward points: 4500
Tags: Munchbox, Kids Lunchbox, Mini4, Berry Blitz