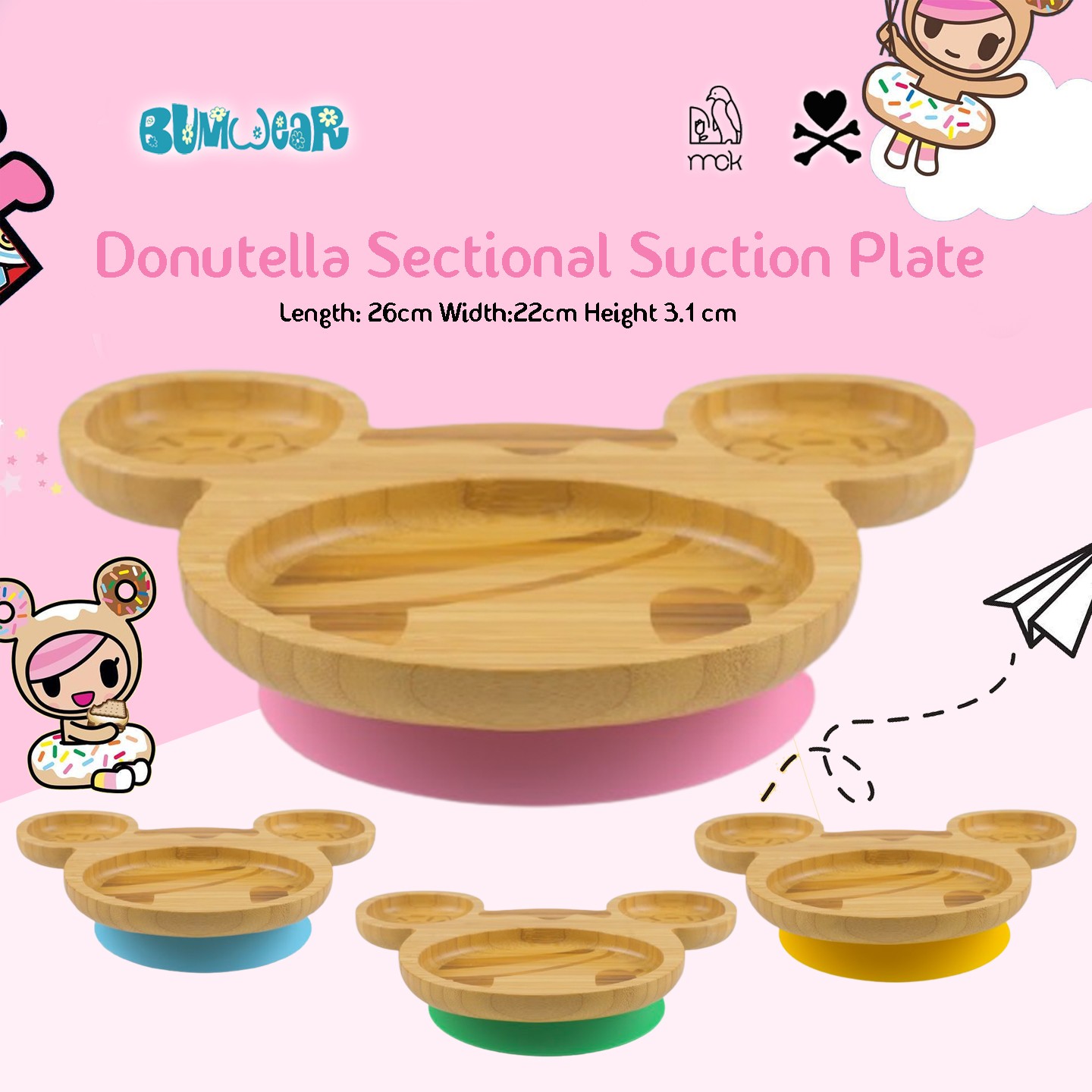 Have a balanced meals and control portions by filling each compartment with some wholesome food. Love this donutella sectional plate, that is just the right size for a meal. Comes in 4 colours that brighten up your day!

ANTIBACTERIAL Bamboo so germs and bacteria won't get anywhere near your child at mealtime. SUSTAINABLE as bamboo is completely biodegradable and is the fastest growing plant. The COOL bamboo surface deters burns to little ones soft littles hands when serving hot food.
FOOD GRADE SILICONE SUCTION 

prevent spills, flips and throws from weaning babies. Keeps the bowl in place
100% ORGANIC BAMBOO 

and food-grade silicone protect your child from BPA, phthalates and other toxins
HEAT RESISTANCE 

bamboo can take heat up to 400 degree, no worries for making hot soups or porridge
REMOVABLE SUCTION SILICONE 

lets you transition bowls to regular use when your child outgrows them
APPROVED 

from the strictest regulatory SGS and all other food safety requirements
Not suitable for dishwasher or microwave usage
Will it stick onto all surfaces?

FOOD GRADE SILICONE suction base adheres best to any smooth, non-porous surfaces such as plastic, tile, glass, fibreglass or metal. High chairs or wooden surfaces that are textured, porous or have slight curves will make it difficult to achieve lasting suction power.
The suction ring should be completely flush to the base of the bowl or plate, to prevent air suction loss, causing the plate to rise.
To ensure a firm bond, surfaces should be totally free of dirt and soap film before attaching the plate.
CARE INSTRUCTIONS
MAINTENANCE: 

Oiling your bamboo wares keeps the wood supple and moisturised. This conditions the wood and repeated application saturates the layers, keeping the wood resilient and providing a natural glow.
WASHING & STORAGE: 

Hand-wash only and not suitable for the dishwasher or microwave. As bamboo is naturally antibacterial and microbial so simply wash with warm soapy water will do the job too.
Dimensions: L: 26cm | W: 22cm | H: 3.1cm

Packaging: Brown box 
My Chill Kitchenette: Donutella Bamboo Plate (With Suction)
Brand: My Chill Kitchenette
Product Code: MCK Donutella Plate Option
Reward Points:

26

Availability: In Stock
S$ 26.90

Price in reward points: 2690
Tags: My Chill Kitchenette, Donutella Bamboo Plate, With Suction