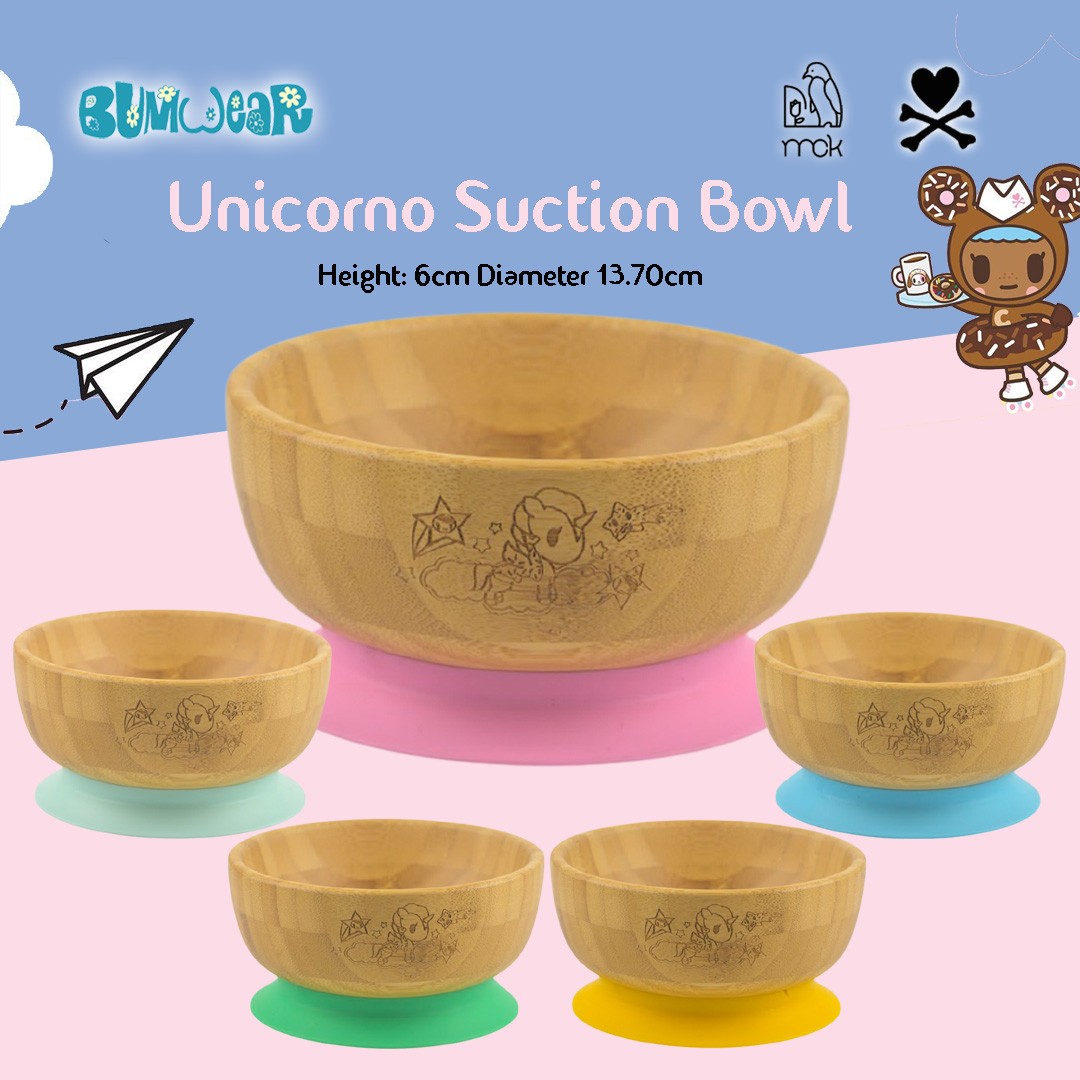 What's in your bowl! I love having some Unicorno with cereal and milk! 5 colours to choose from with food grade silicone suction that glue to the table, try it yourself !

Food grade silicone suction that prevent spills, flips and throws from weaning babies
100% natural bamboo protect your toddler from BPA, phthalates and other toxins
Approved from the strictest regulatory SGS and all other food safety requirements
Heat resistance bamboo can take heat up to 400 degrees, no worries for making hot soups or porridge
Removable suction base lets you transition to regular use when your child outgrows them
Dimensions: (Bowl) H: 6cm | D: 13.7cm  

Will it stick onto all surfaces?
Our silicone suction base adheres best to smooth, non-porous surfaces such as plastic, tile, glass, fibreglass or metal. High chairs or wooden surfaces that are textured, porous or have slight curves will make it difficult to achieve lasting suction power.

The suction ring should be completely flush to the base of the bowl or plate, to prevent air suction loss, causing the plate to rise.
To ensure a firm bond, surfaces should be totally free of dirt and soap film before attaching the plate.
Not suitable for dishwasher or microwave usage, hand wash only.
My Chill Kitchenette: Unicorno Bamboo Bowl (With Suction)
Brand: My Chill Kitchenette
Product Code: MCK Unicorno Bowl Option
Reward Points:

22

Availability: In Stock
S$ 22.90

Price in reward points: 2290
Tags: My Chill Kitchenette: Unicorno Bamboo Bowl (With Suction)