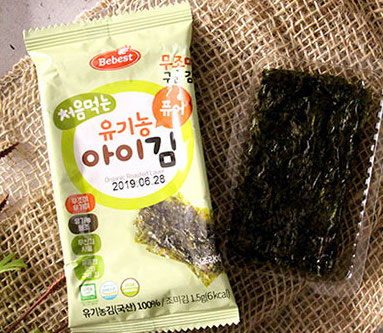 1st organic roasted laver "Pure" for children that is created with mild taste and uses only ingredients that are certified organic. Only natural, non-acidic seaweed without the hydrochloric acid treatment process is used and grilled crispy with far infrared rays, making it more delicious.
Why is the organic laver special?
·      100% organic
·      Natural unsweetened taste perfect for children
·      Individual packaging in a quantity that is appropriate for each consumption
·      No seasoning
Storage Method
·      Avoid direct sunlight, high temperature and high humidity
·      Store in cool and dry place
·      Finish ASAP after opening the packaging because the quality of the laver sheets will change after being exposed to the sultry environment.
Precautions
·      If you are allergic to certain ingredients, please carefully check the ingredients and allergens listed in the product information.
·      Prevent your child from over indulging on the snacks
·      Before consuming, please hydrate your child with ivory tea or ion drink
·      Please consume the product ASAP after opening, otherwise, keep the rest of the product careful of moisture and keep it sealed.
**Note: Product contains no added preservatives, artificial colouring, expanding agent, flour, artificial sweetener, artificial flavouring
Bebest: Seaweed Snacks - Organic Roasted Laver Pure
Brand: CommercePark
Product Code: Bebest Seaweed Snacks
Reward Points:

9

Availability: In Stock
S$ 9.30

Price in reward points: 930
Tags: Bebest, Korean, Seaweed Snacks, Organic Roasted Laver, Natural Ingredients