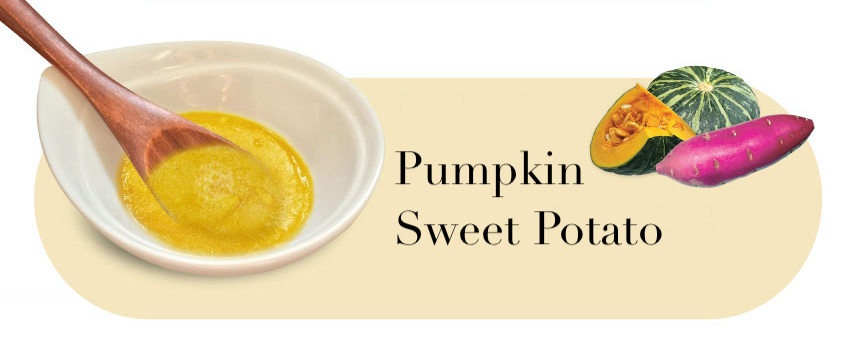 Bebest Pumpkin and Sweet Potato puree is a ready-to-eat meal. It contains the heart and sincerity of mummies who want the child to grow up healthily. Pumpkin and sweet potato perfectly complement each other, making it natural and refreshing for babies and for those who have digestive issues. Made from 100% local Korean pumpkin, Korean sweet-potato, and Korean rice. Pumpkin is high in nutrients and has a tinge of sweetness. Recommended for new parents who want to introduce non-staple food to their babies.
Families who care about the health of their loved ones can feel at ease with this product which is produced with pure raw Korean ingredients, in a safe manufacturing facility, and clean processes. This Pumpkin and Sweet Potato has also been found to prevent vomiting for those who are unwell or recovering from intestinal or colon surgery. It is an alternative source of natural nutritional supplement for the care of geriatrics among us. Those who have tried this find their previous loss of appetites returning after a short while.
Instructions
All you need is a bit of milk or hot water and mix it with the pumpkin and sweet potato flakes to get a delicious and nutritious bowl of easy-to-digest puree, be sure to adjust the amount of water according to your child's growth stage. Do not pour the entire contents out, but use half first, then adjust accordingly with liquids or the balance flakes. Comes with an air-tight ziplock that keeps the contents very fresh for long periods.
Various homemade dishes are possible by utilizing the ingredients at home. Easy recipes and usage make it easy for anyone in the family to prepare:
· Simply just pour hot water and you're done
· Remember to adjust the amount of water
· Freshly prepared with the taste and aroma of pumpkin and sweet potato
· Easily customizable homemade diet
· Just mix it with Bebest rice porridge, you'll get pumpkin sweet potato rice
• Suitable for babies from 6 months
• Bebest snacks are HACCP certified, children can eat at ease and mommies can be rest assured.
Bebest: Digestive Food - Pumpkin and Sweet Potato
Brand: CommercePark
Product Code: Bebest Baby Food
Reward Points:

5

Availability: In Stock
S$ 6.00

Price in reward points: 600
Tags: Bebest, Korean, Baby Food, Pumpkin and Sweet Potato, Natural Ingredients