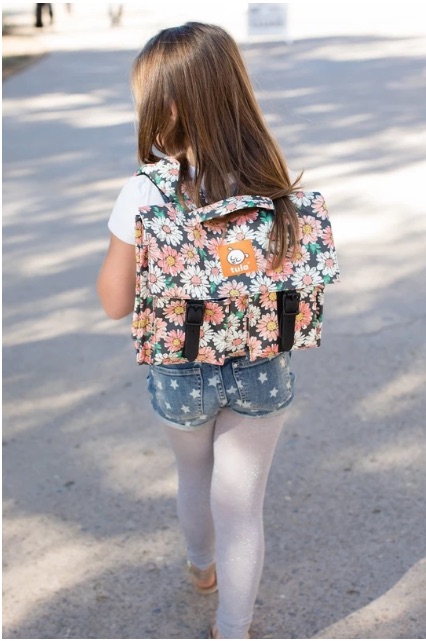 A lush bouquet of flowers captures the spirit of Spring in this stylish backpack. 'Flourish' is sprinkled with pink and white daisies across a dark gray background that is both bursting with color and subtle in its playfulness. 'Flourish' is the perfect carryall backpack to join your little one as they explore.

Fashionable Tula Designs

Limited and trendsetting prints, from whimsical to modern, help your child show off their style and complement many Tula Carrier and Tula Blanket designs.
Padded shoulder straps are adjustable and include a sliding chest clip to help your child carry their backpack comfortably. Straps are lined with soft and durable mesh for added comfortability.
100% water-resistant polyester fabric allows for easy cleaning.
Perfect Size for Toddlers and Beyond
Our kids backpacks are 4" deep, 9" high and 12" wide with adjustable chest and arm straps making it an ideal size for children of many ages.
From snacks to school books, plenty of items fit! Two extra storage pockets on the front of the backpack and a stretchy interior pocket integrated within the main compartment to help with organization.
Easy-to-use Magnetic Closures
Magnetic snaps make it easy for toddlers and older kids to open and close the backpack and pockets on their own.
Personalize and mark your child's backpack with their name on a super-cute, retro looking name tag that includes our motto "Keep doing what you love", located on the inside of the backpack.
A handle on the top of the backpack allows for easy holding for grown-ups and children.
Tula: Backpack - Florish
Brand: Baby Tula Inc
Product Code: Tula Backpack
Reward Points:

55

Availability: In Stock
S$ 109.00

S$ 59.00 - Your Special

Price in reward points: 5514
Tags: Tula, Backpack Florish