NEW Launch




January promises to be an exciting month for Jujube Launches. 3 brand new colours of Chromatics 3.0 are making their debut (Water, Pebble and Linen) as well as the first Tokidoki collab of 2021, Kawaii Carnival.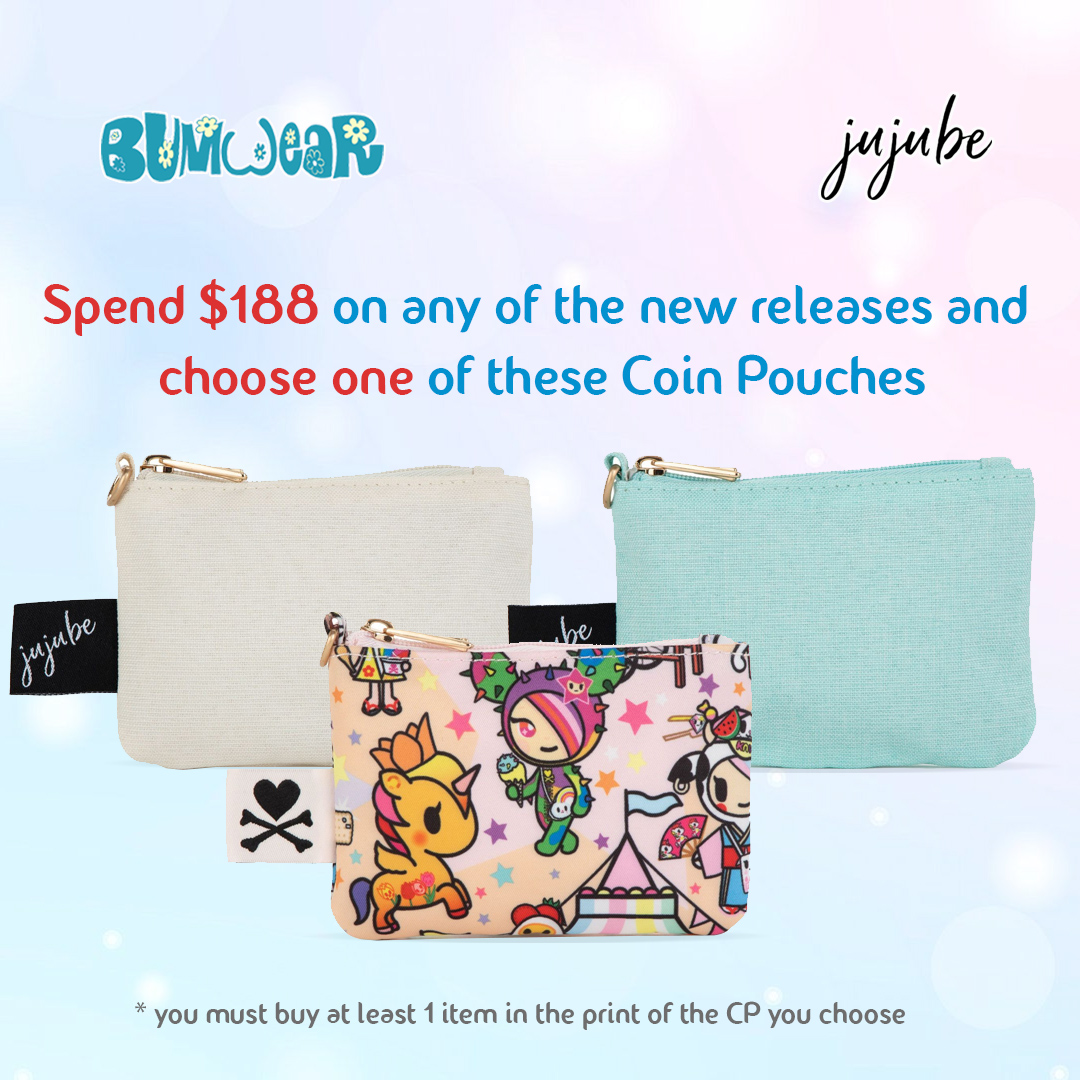 From icy glaciers to crystal clear pools, this peaceful WATER colorway is what dreams are made of. Floating, drifting, daydreaming … our pale aqua solid embodies liquid bliss! Reflections from warm Rose Gold hardware and satin Golden lining offer a calming contrast upon the cool pastel surface. Refreshingly pure … quench your thirst with WATER Chromatics!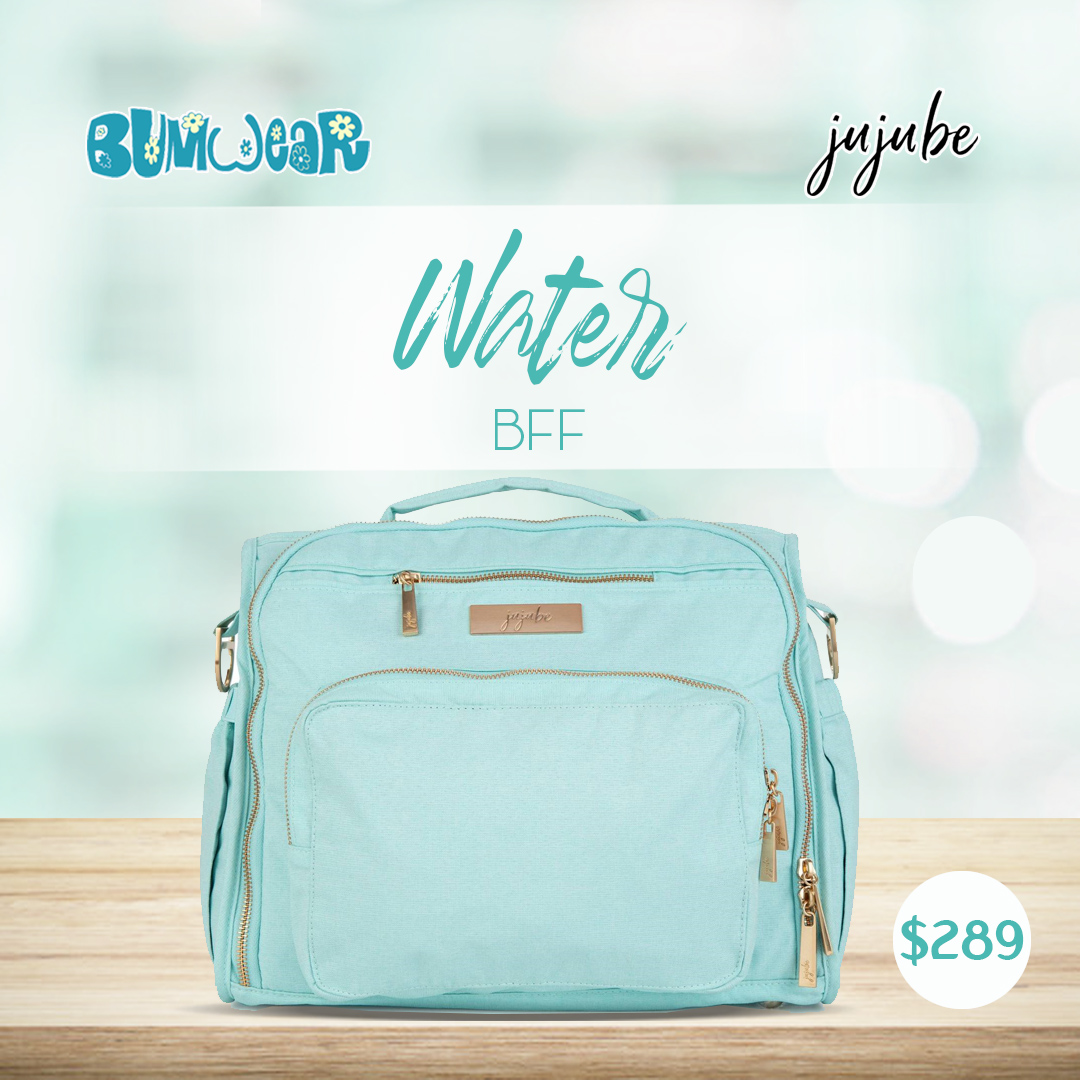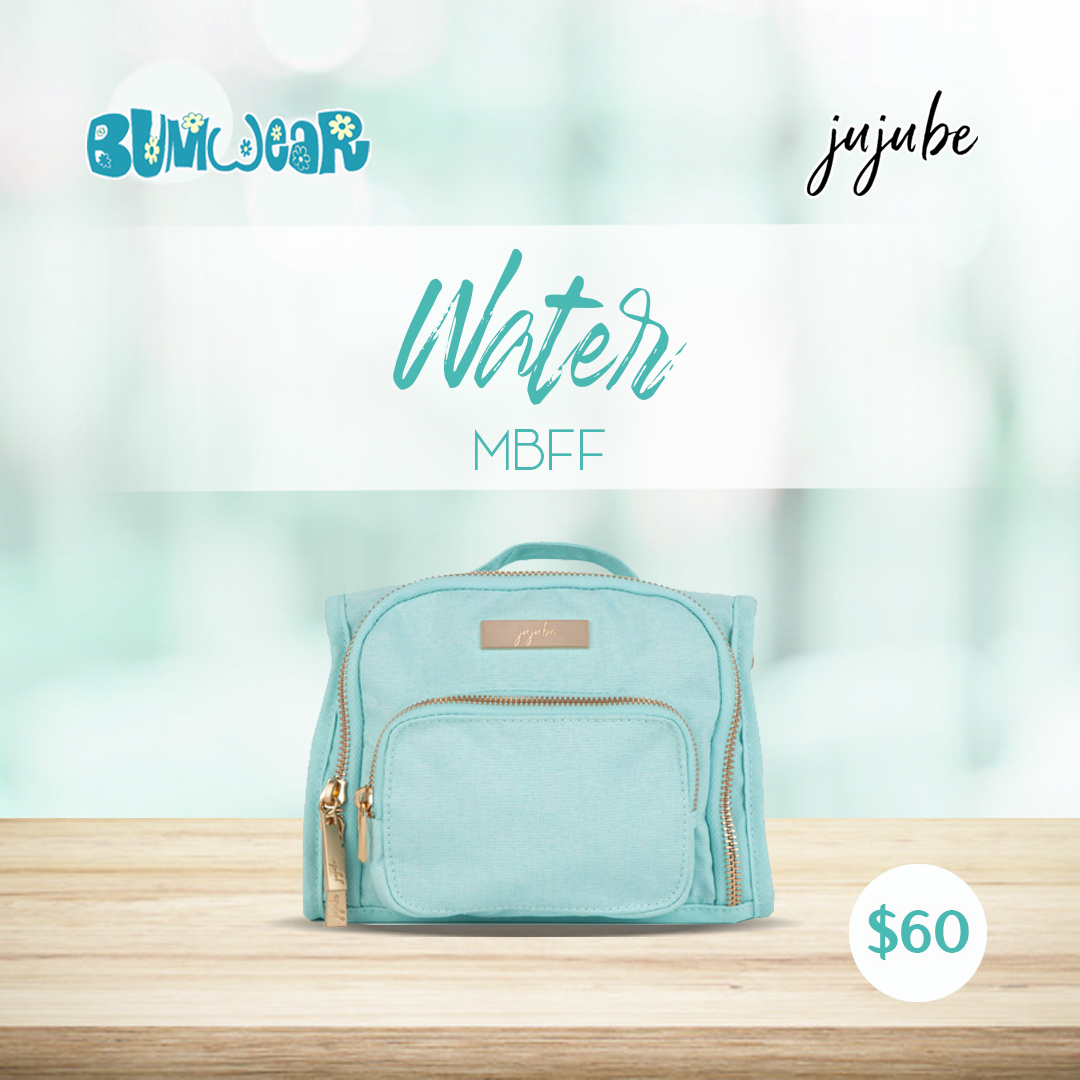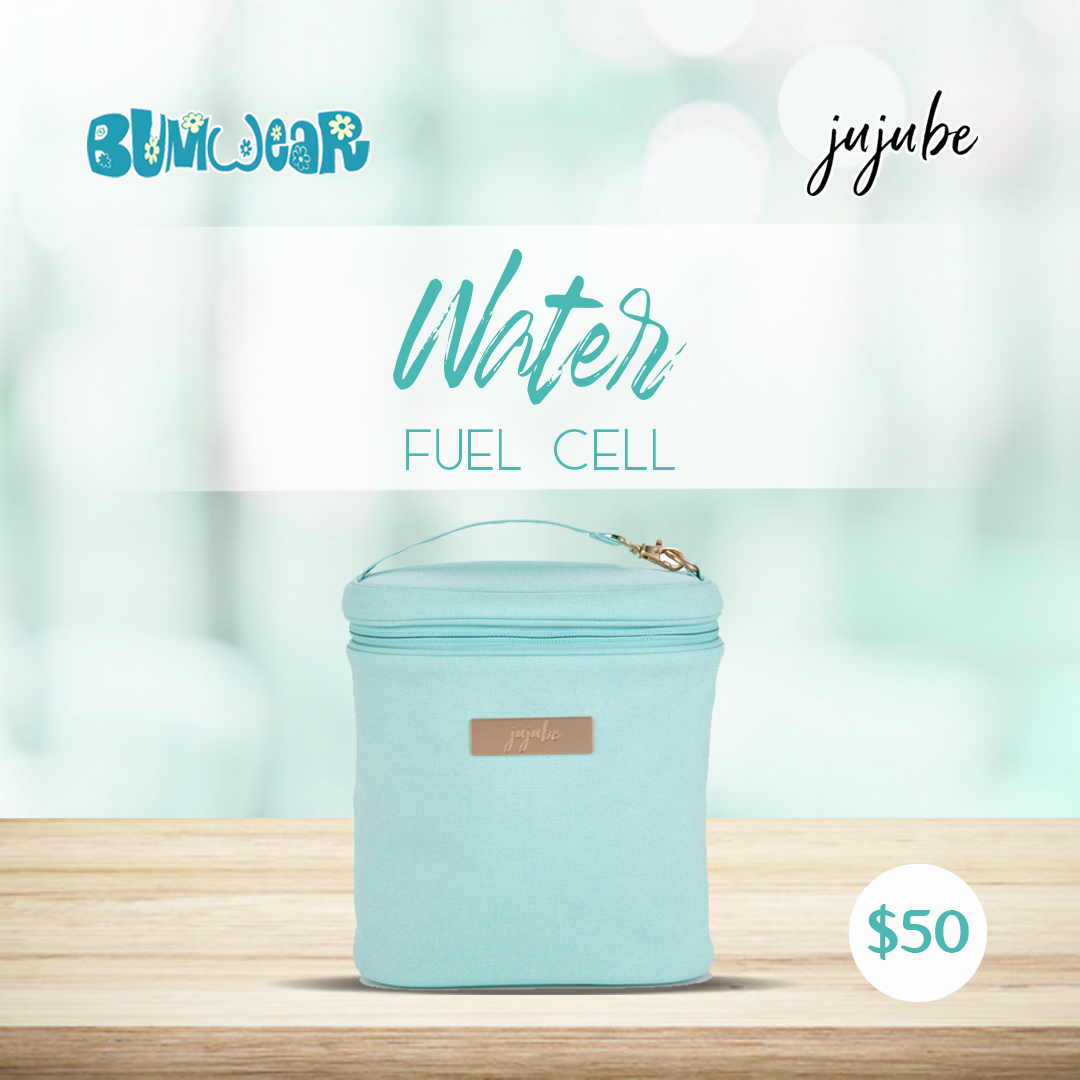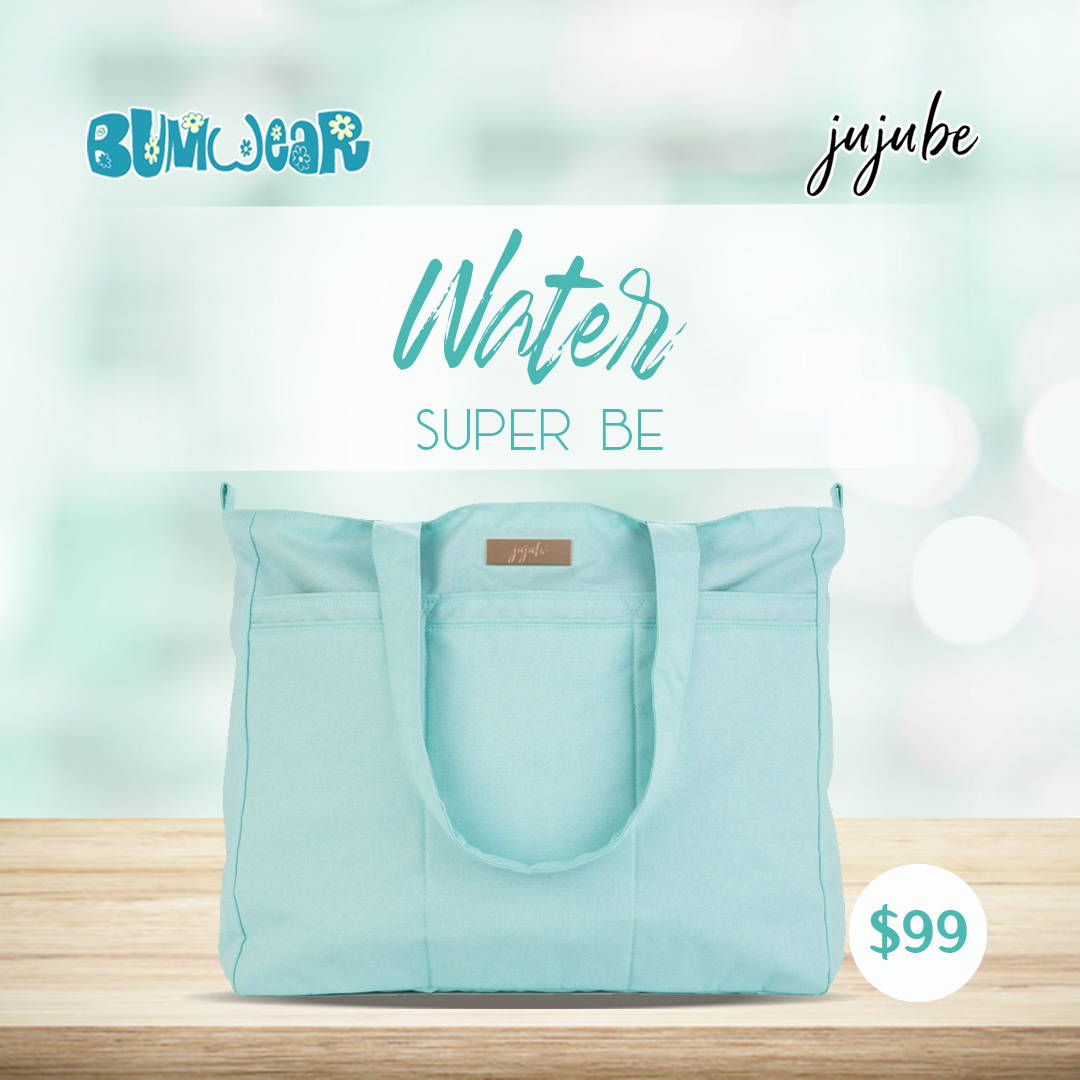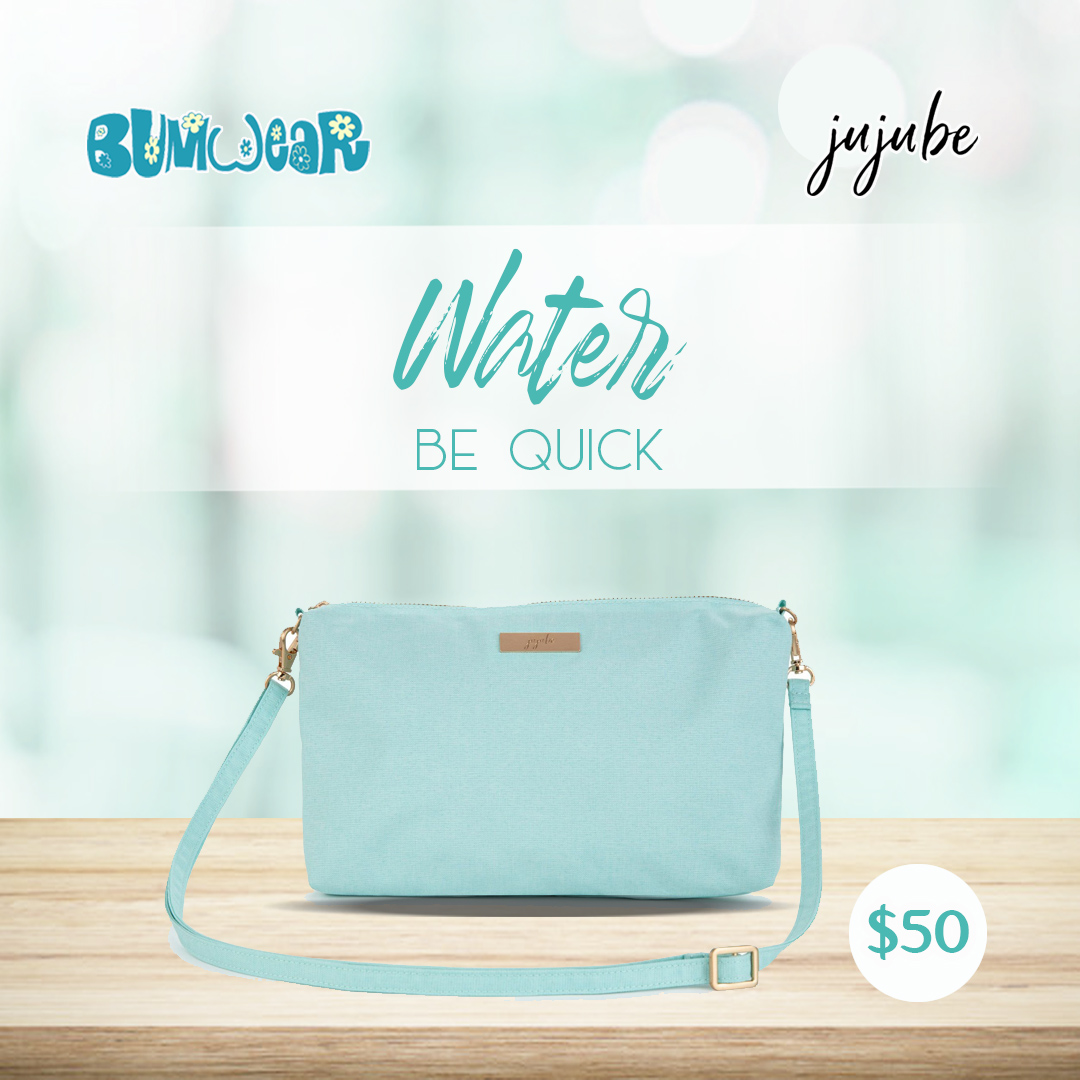 Natural fibers. Neutral textiles. Simple Elegance. Our new LINEN. solid adds effortless style to every look! This light beige classic truly goes with everything. Rose Gold hardware and Golden lining blend beautifully to the sand colored exterior. Uncomplicated yet unique, our new LINEN Chromatics is crisp, clean, and casually captivating.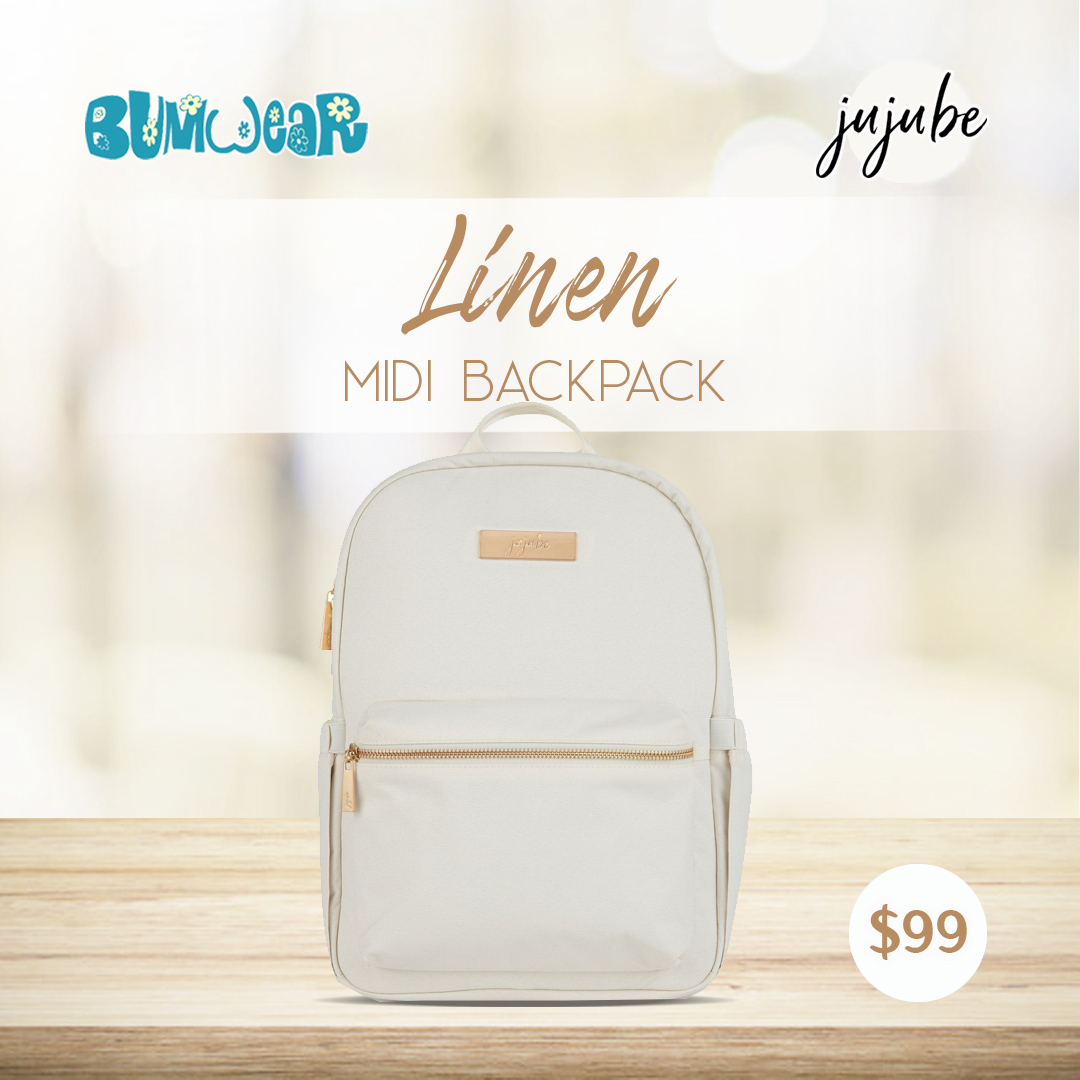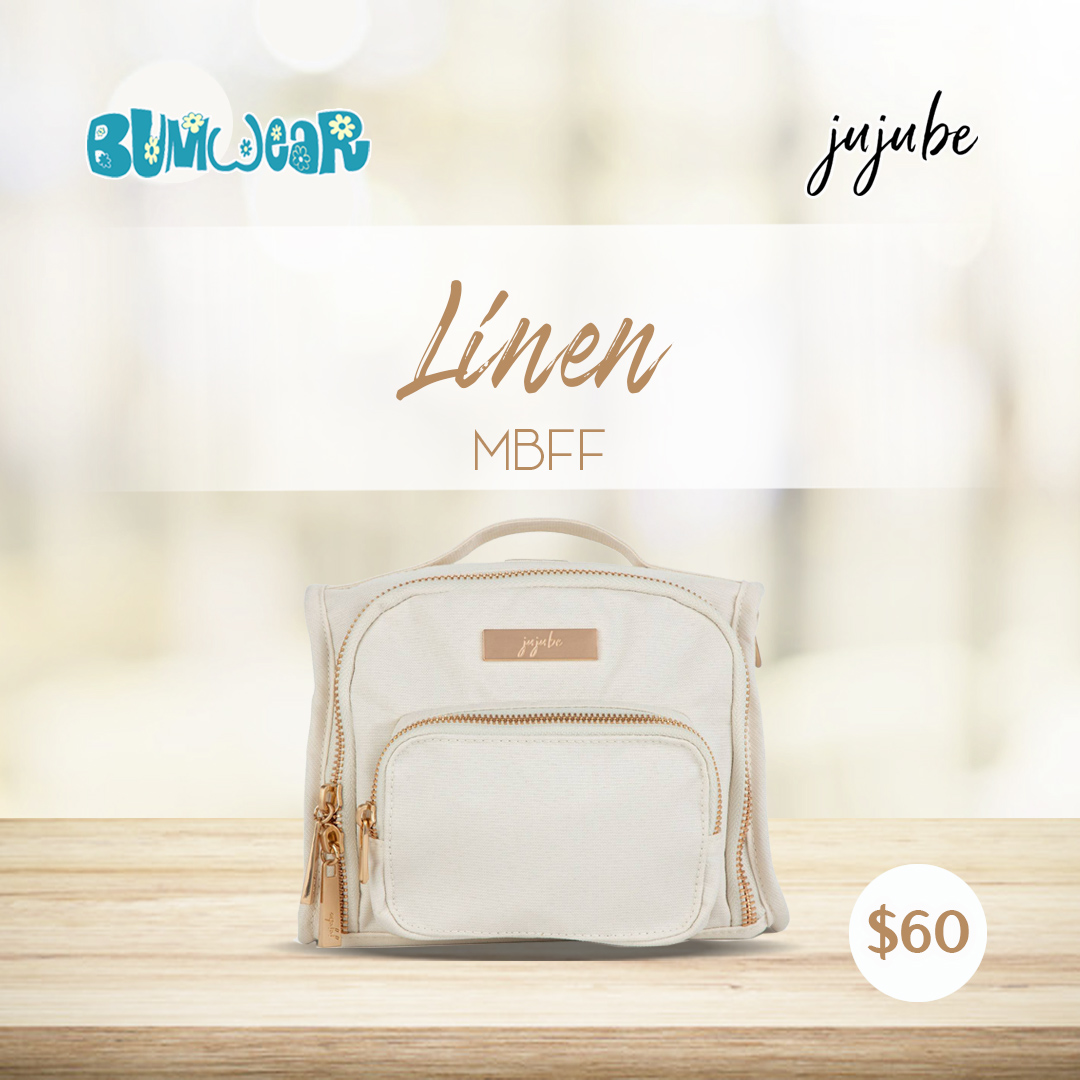 Gentle waves recede, revealing perfectly smooth stones scattered on the shoreline. Subtle and soft, grey and glistening … our new PEBBLE colorway compliments every style and calms every moment. The pebble colored exterior sparkles in the lingering light of the sunset provided by our Rose Gold hardware and shiny Golden lining. Rippling upon the serene surface, our PEBBLE Chromatics will make your heart skip a beat!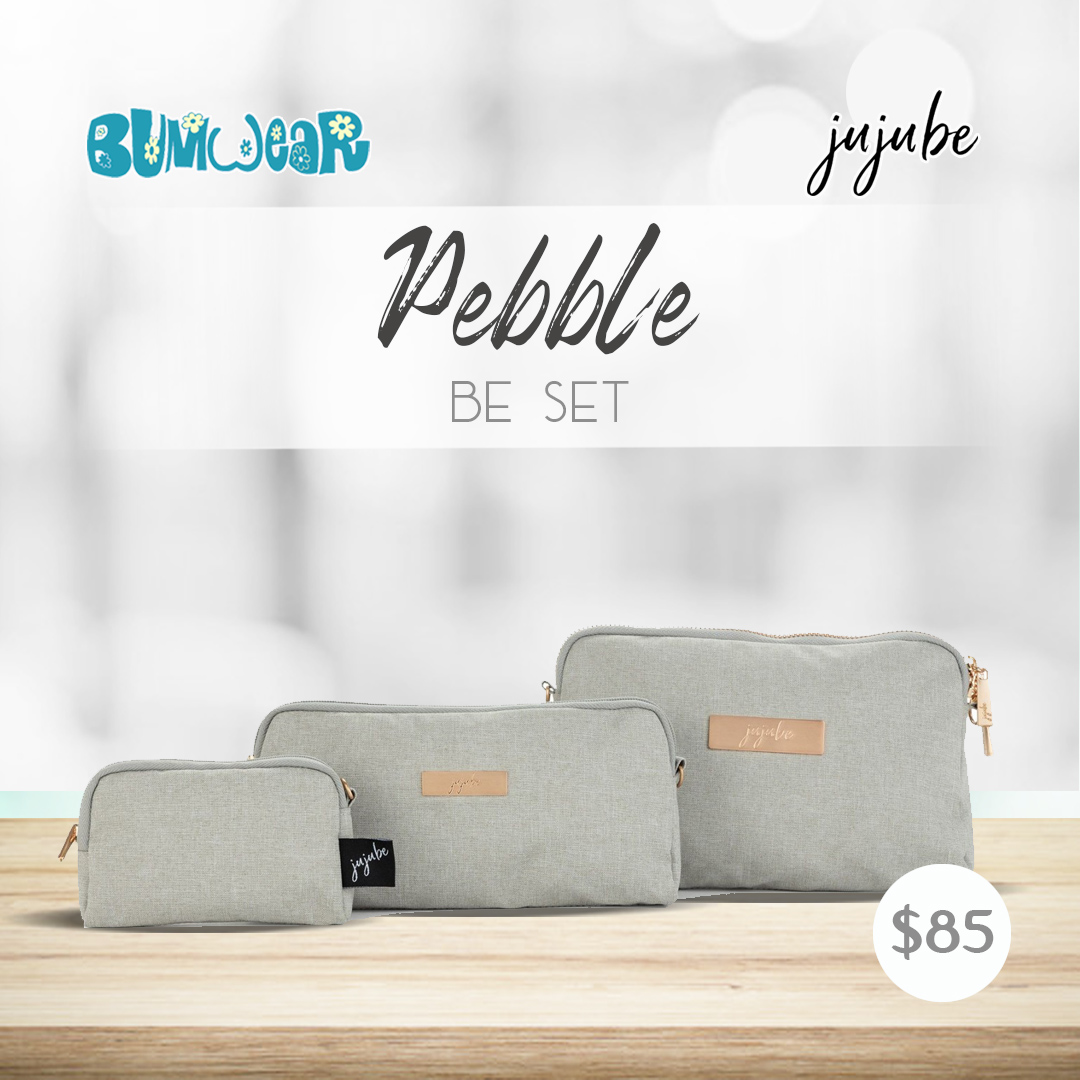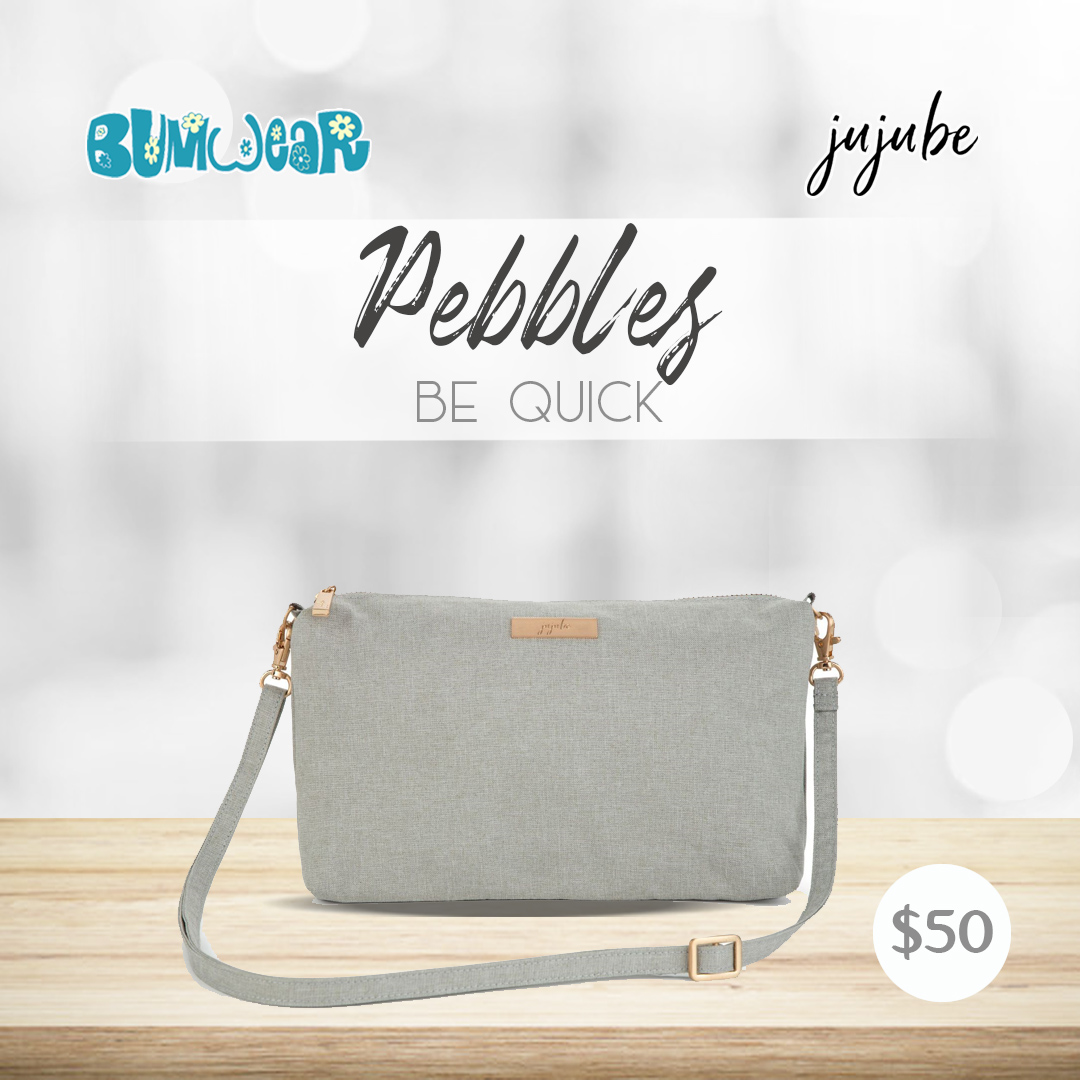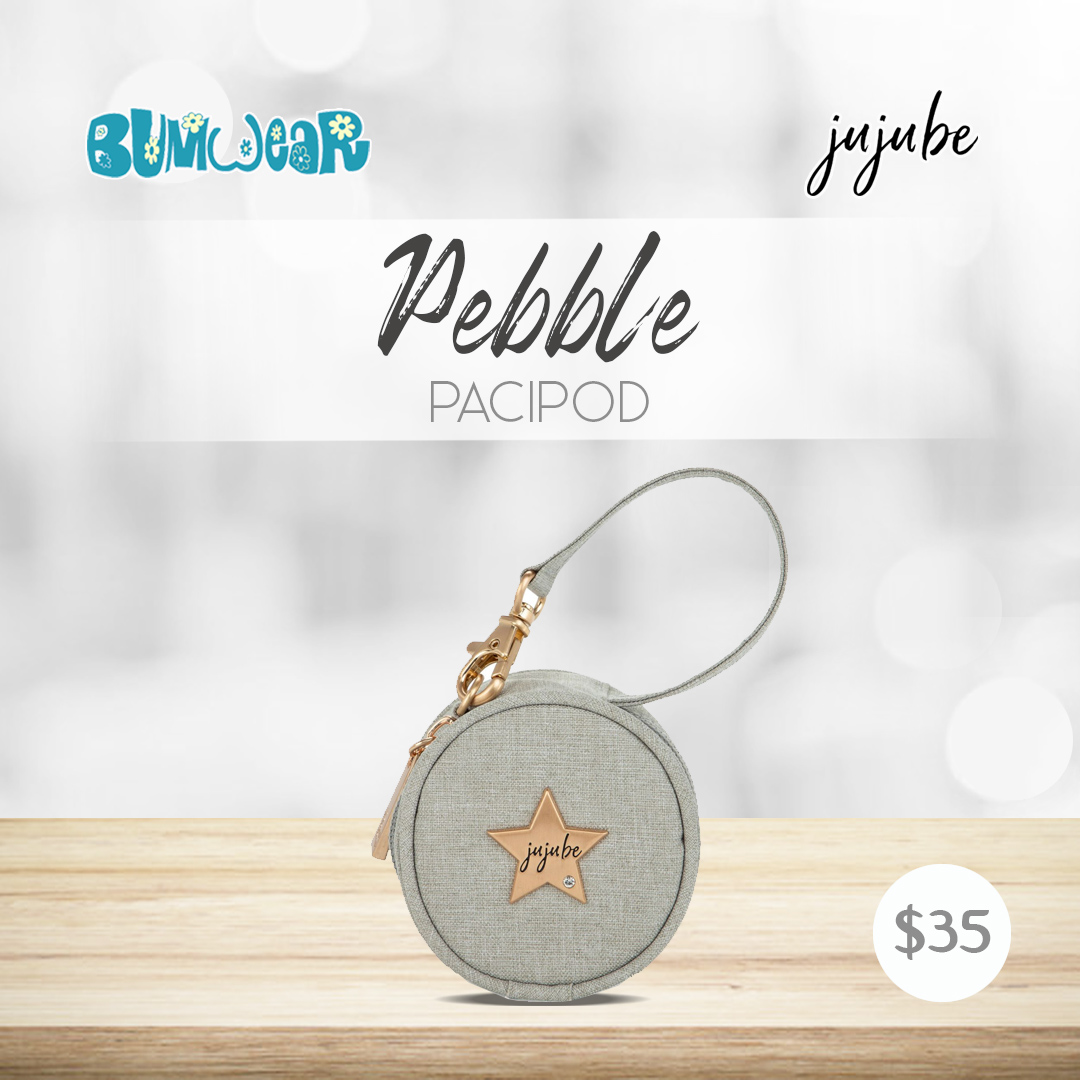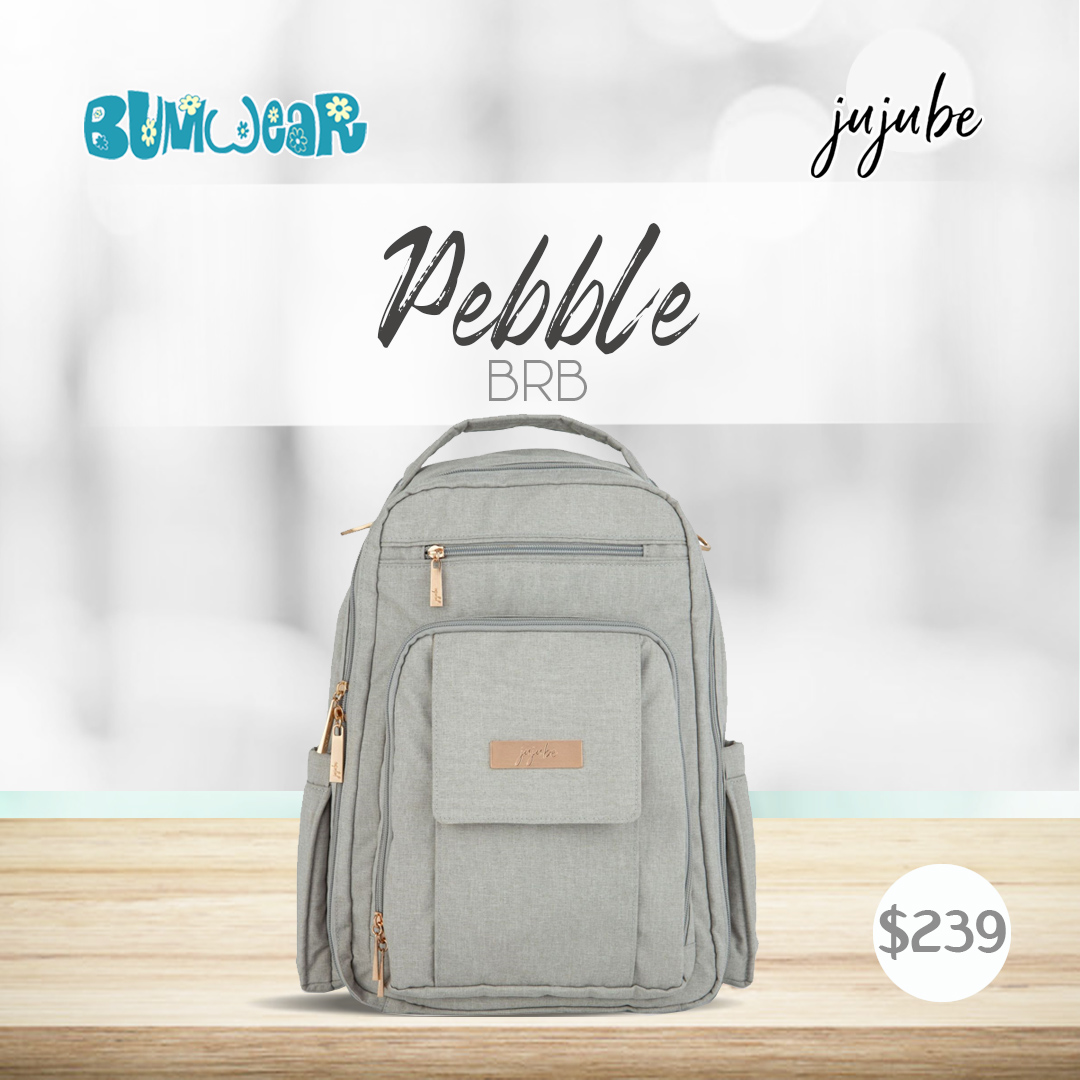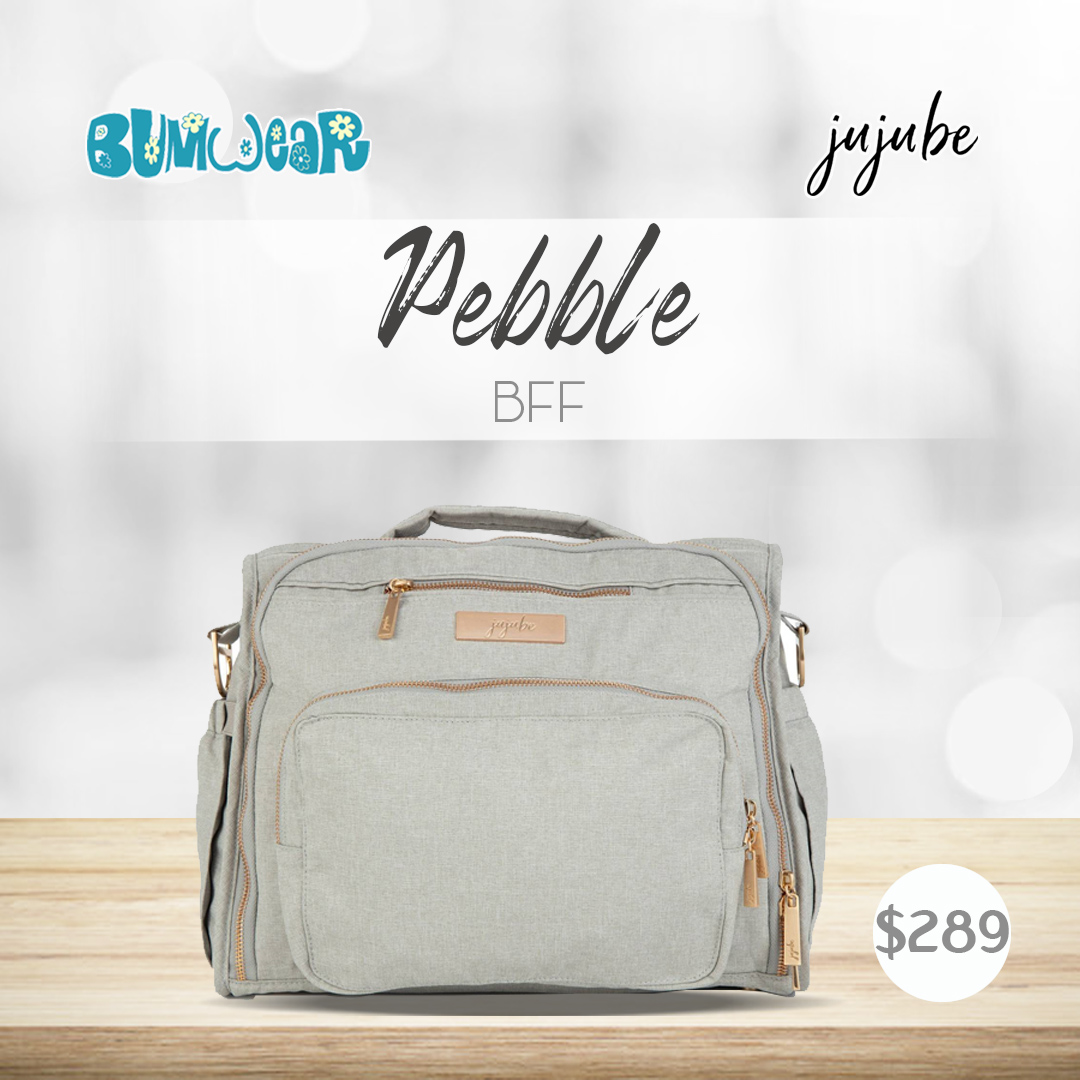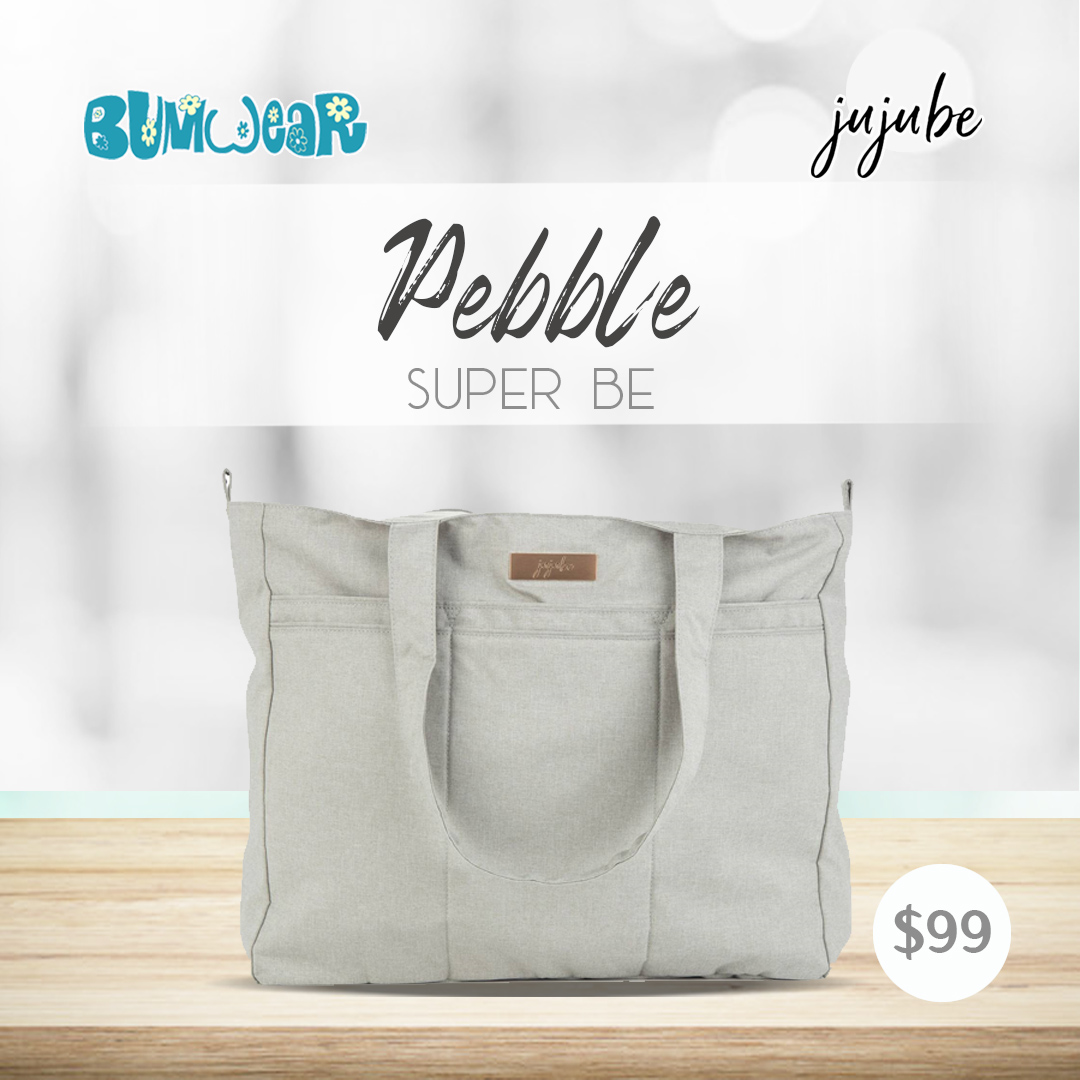 Kawaii Carnival is open for FUN! This pastel amusement park will fulfill all your Kawaii dreams with food, friends, and festivities set upon a background of apricot! Take a ride on one of our main attractions including the cutest Merry-Go-Round, sweetest Ferris Wheel, and tiniest Roller Coaster with Sushi Cars speeding up and down. Weeeeeeeeee!

Large and small stars in pale pink, yummy yellow, light lavender, and mellow mint twinkle amidst your favorite tokidoki friends. We spy Sandy, Donutella, Donutino, Mozzarella, and MORE! Which treat will you choose first? Cotton candy, popcorn, hotdogs, snow cones, lollipops, or ice cream? Peek inside to see perfectly matched apricot lining imprinted with tokidoki icons plus your very own ticket! Then, step right up to our Rose Gold Ferris Wheel zipper pulls available on our double zippered silhouettes!

Everyone gets a prize because each bag boasts one collectible and interchangeable character zipper pull! Collect them all with our Kawaii Carnival Blind Boxes! This tokidoki x JuJuBe print can't wait to entertain YOU!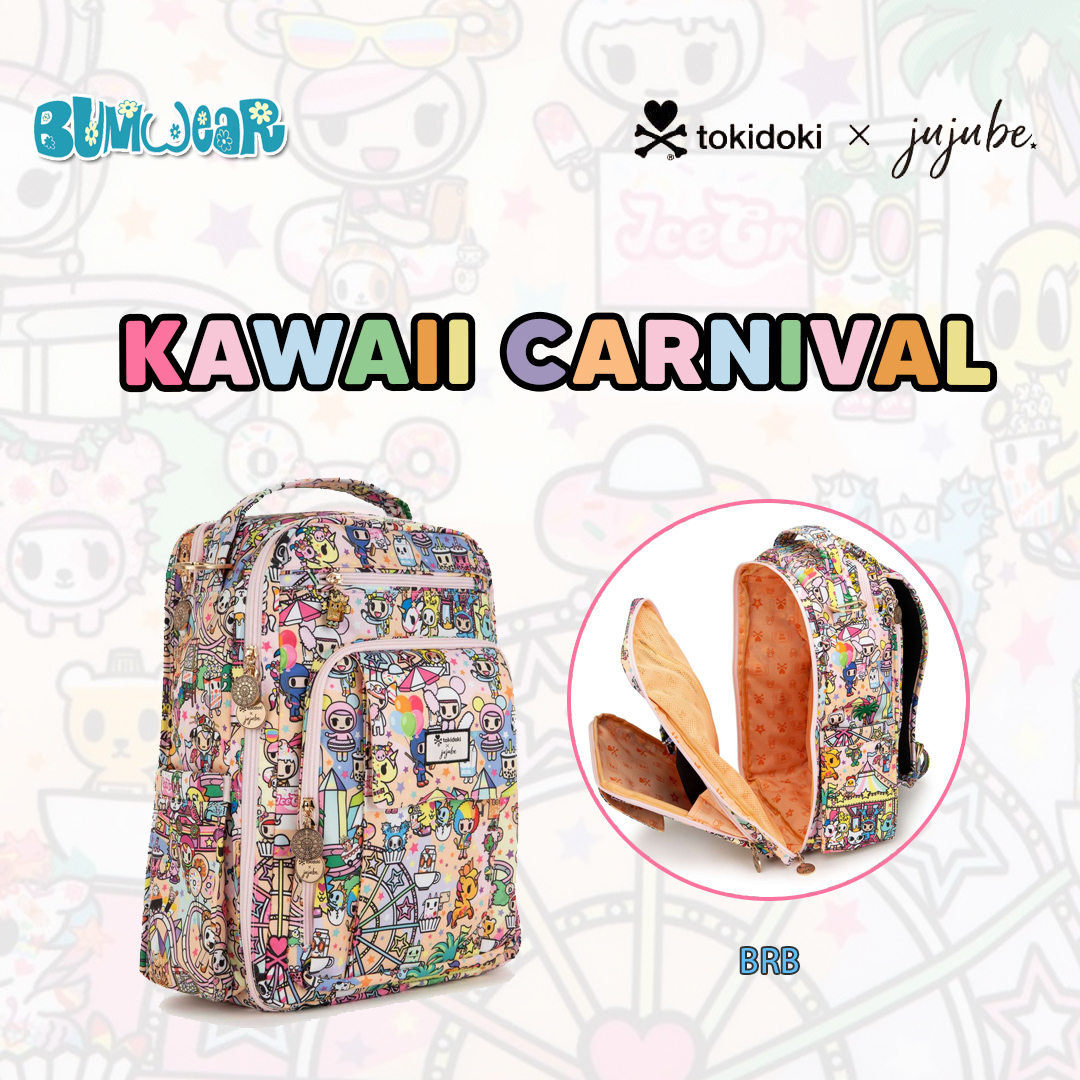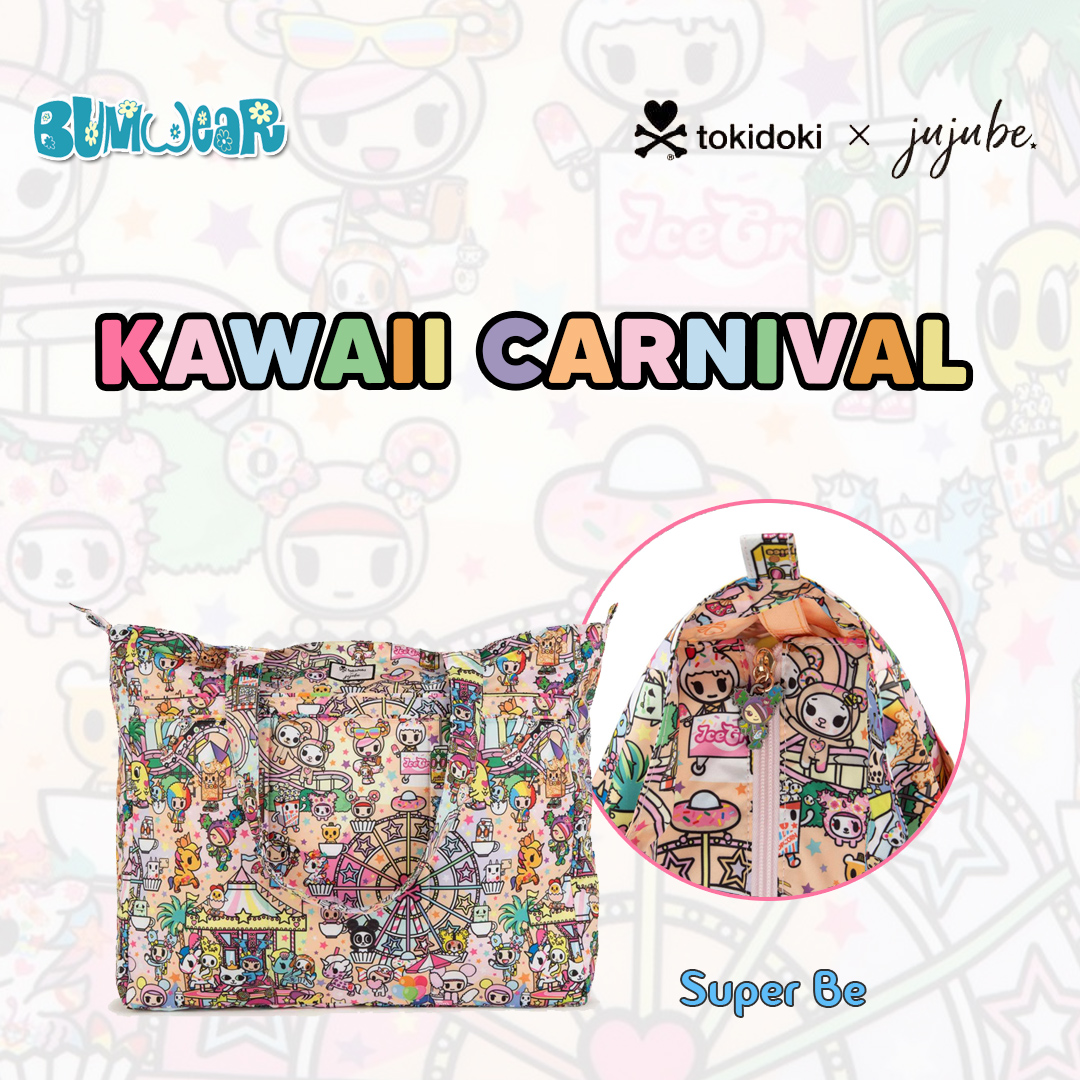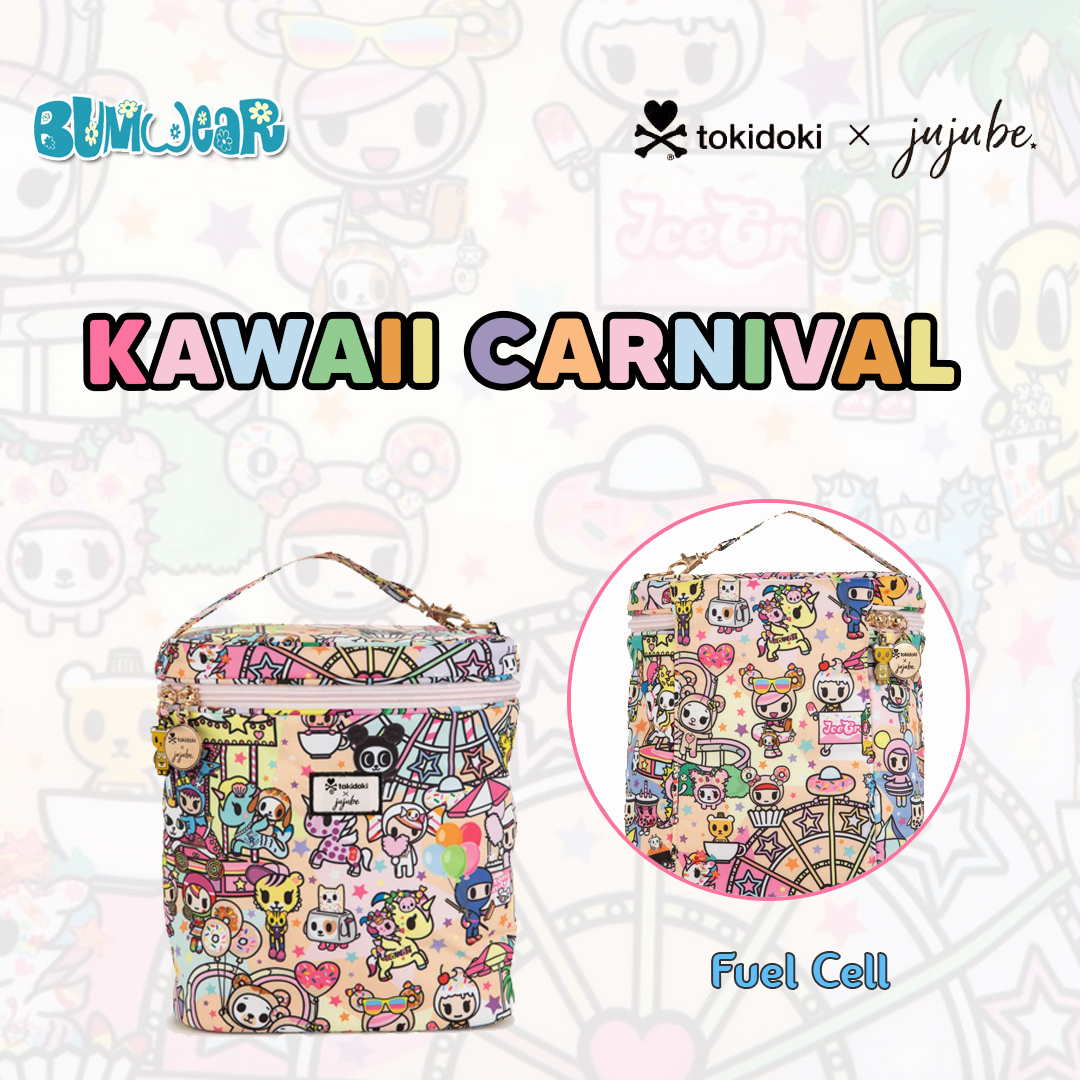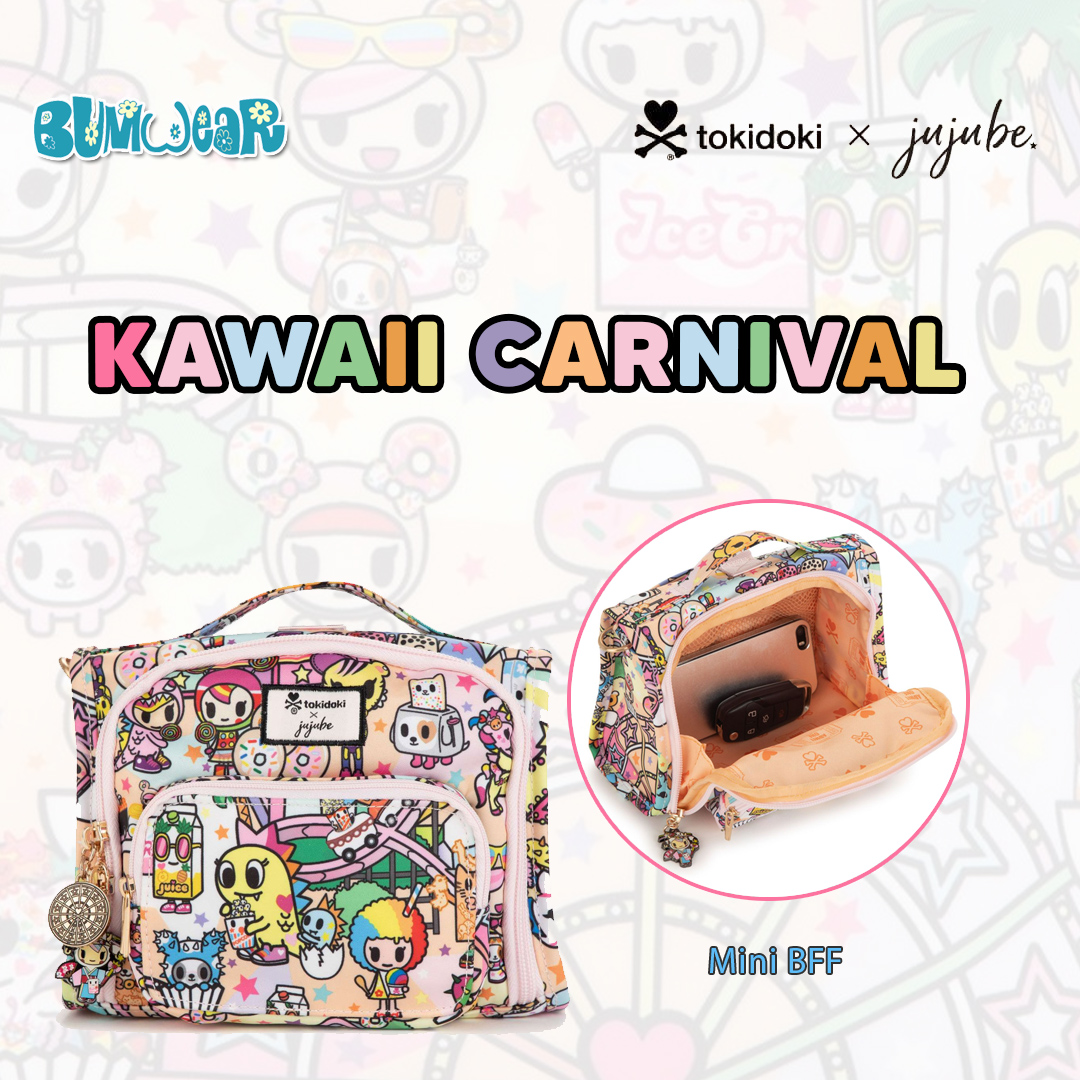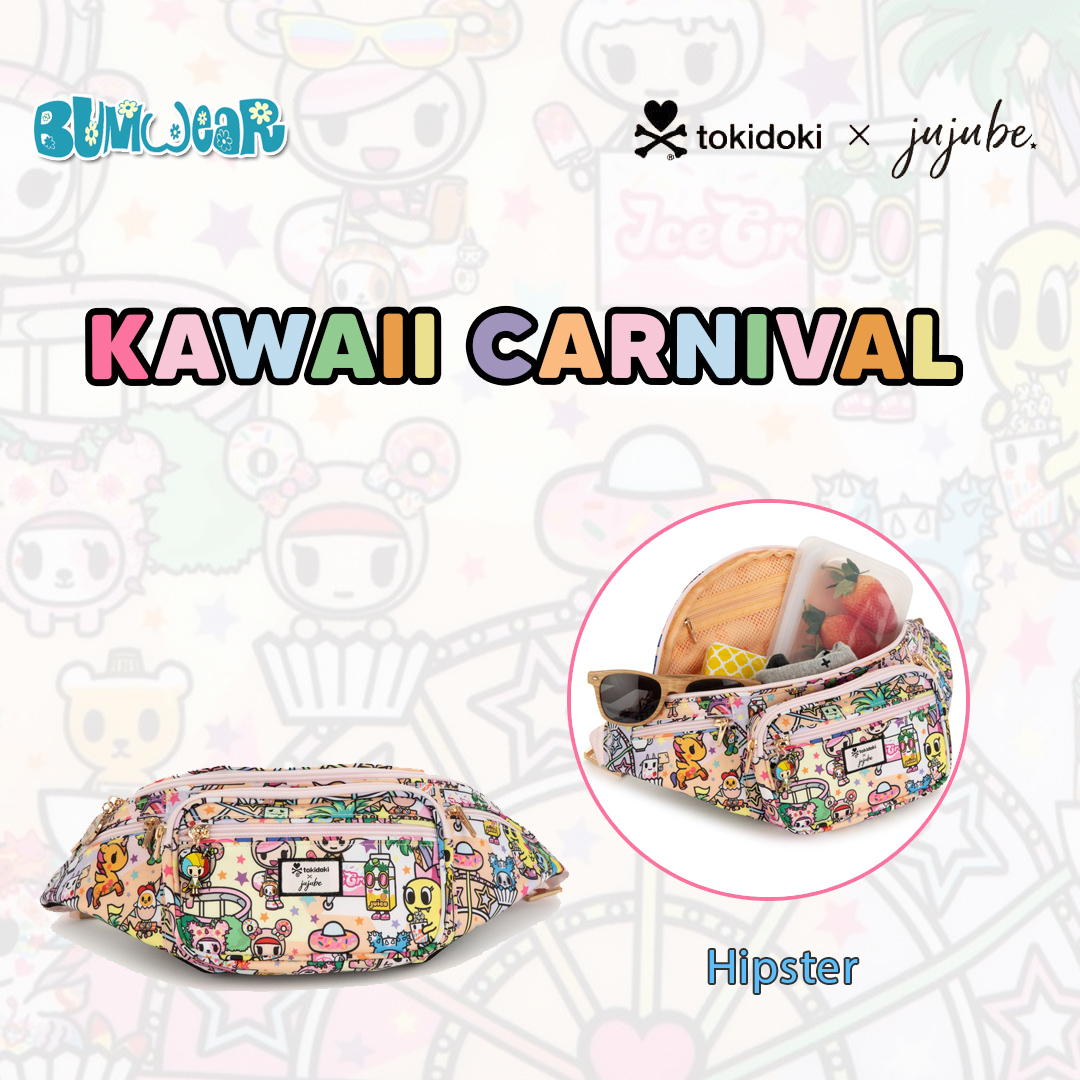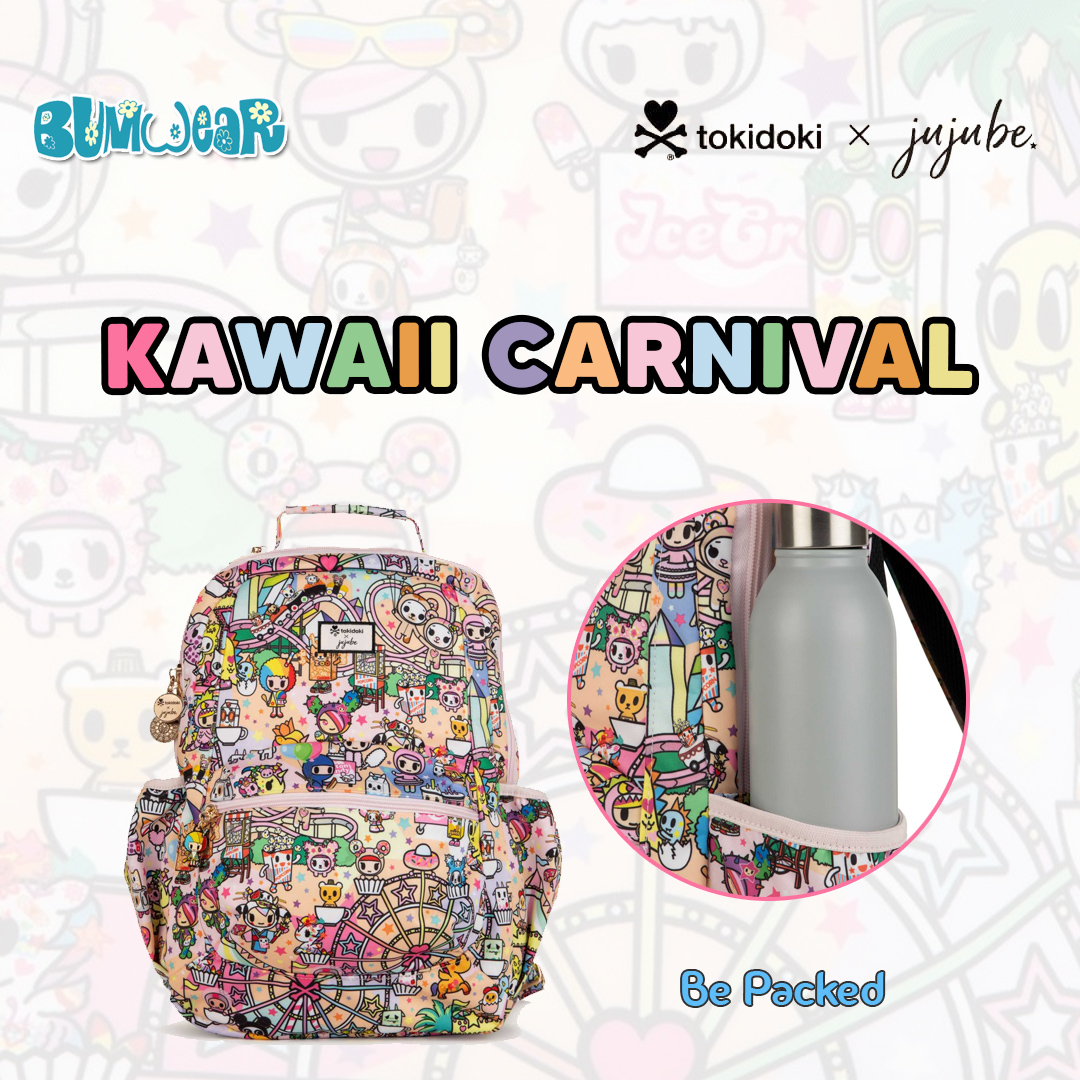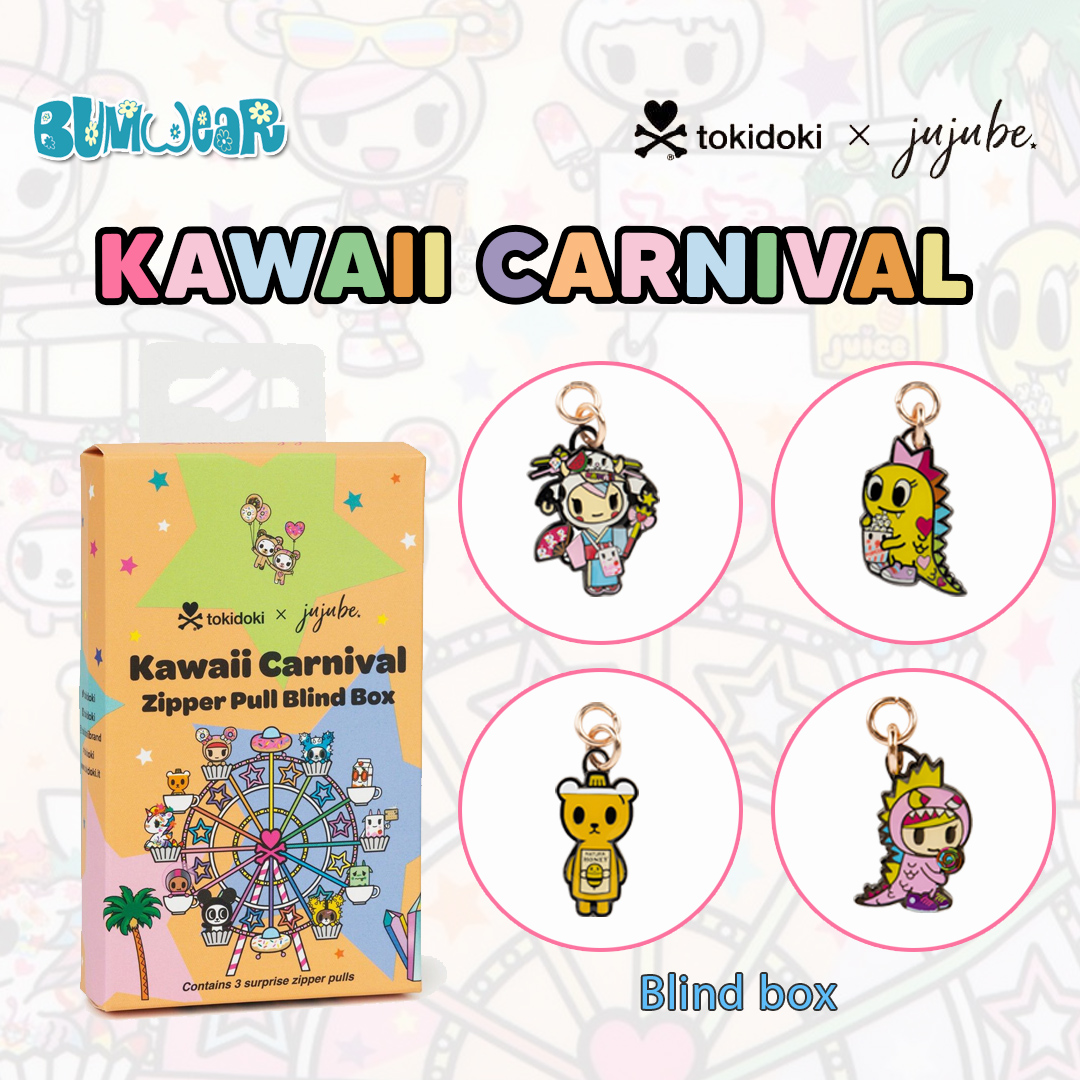 ---
There are no products to list in this category.