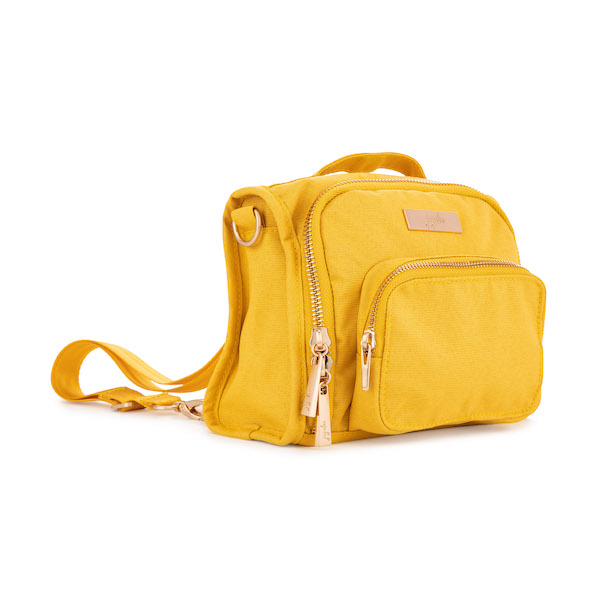 You're never too young to meet your first B.F.F.! The Mini B.F.F. is the perfect gift for the littlest JuJuBe fans, and the cutest collector's item for the young at heart. Flawlessly proportioned down to the last stitch—this Mini will be the perfect match with Mom's during Mommy & Me outings. As versatile as the original, you can quickly convert the Mini B.F.F. from a backpack to a messenger bag by simply adjusting the included strap… or just grab and go with the durable top handle. B.F.F. fans will quickly spot the familiar zippered front pocket, back slip pocket, and the signature wide-unzip main compartment (now with two zipper pulls and an interior mesh pocket.) And don't forget the invisible JuJuBe bells and whistles. The Mini B.F.F. features the same germ-resistant exterior and machine washable construction you need and love!
Features & Specifications
Pockets –

 

Zippered main compartment with internal mesh pocket; Zippered front pocket; Slip pocket in back

Fabrics –

 

Light-colored lining; silver-ion treated interior resists bacteria, mold and mildew; Highly stain resistant exterior, spills wipe right off

Straps –

 

Detachable and adjustable messenger strap can be set to desired length

Hardware –

 

Metal hardware

Dimensions –

 

7.5"W x 5"H x 3"D

Weight –

 

.5 pounds

Extras –

 

Machine washable; Limited lifetime warranty
The Be Quick is all you need to take care of your baby while running errands around town. Stash diapers and wipes in this convenient carrying case, and hang it from your stroller or wrist. For longer outings, use the Be Quick to keep your larger diaper bag neat and organized. After your baby has moved on from diapers, this sleek bag doubles as a wristlet, clutch purse or cross body bag, perfect for casual occasions with your friends.
Features & Specifications
Pockets – 

Zippered main compartment; 1 zippered pocket in main compartment

Fabrics – 

Light-colored lining; Silver-ion treated interior resists bacteria, mold and mildew; Highly stain resistant exterior, spills wipe right off

Straps – 

Detachable wristlet strap, Detachable long strap

Hardware – 

Metal hardware

Dimensions – 

11.5"W x 7"H x 1.5"D

Weight – 

1 pound

Extras –

 

Machine washable; Limited lifetime warranty
Jujube: Golden Amber - Mini BFF + Be Quick Bundle
S$ 110.00

S$ 96.80 - Your Special

Price in reward points: 9680