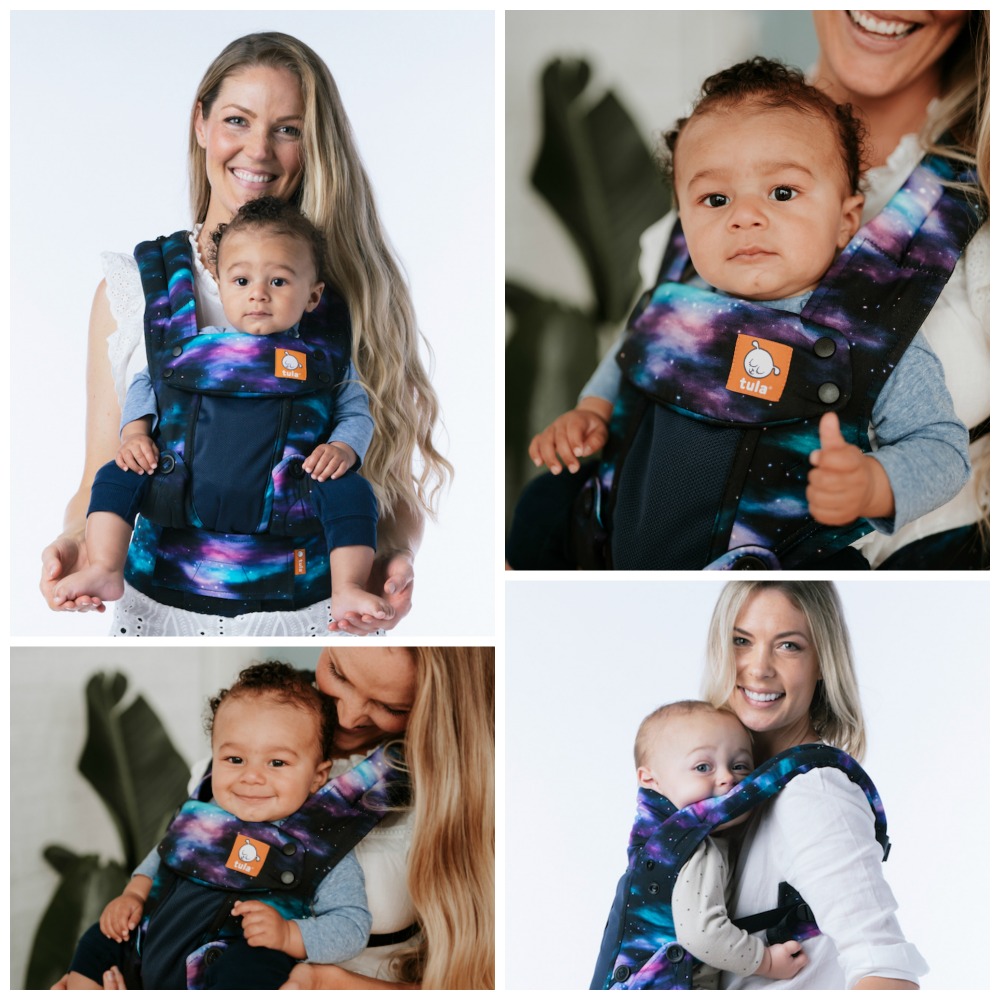 The bright dancing lights of Aurora Borealis inspires our 5th Tula Exclusive ~ Celestial Lights.  An ethereal phenomenon of extraordinary beauty, this celestial display of coloured lights across the night sky is both beguiling and inspiring in equal measure. Once seen, it is never forgotten. It is our hope that you too will have unforgettable moments of carrying your little ones close to your heart in this beautiful Exclusive from Bumwear. 

Coast Celestial Lights will keep you and baby cool with a breathable navy breathable mesh in the center panel and detachable hood. The Celestial print continues onto the carrier inner and outer framed panel, straps, waistband and detachable hood reach straps.


New Explore Baby Carriers by Baby Tula
From Newborn to Toddler
The new Tula Explore baby carrier is a versatile, easy-to-use carrier that allows you to carry the baby in an ergonomic forward facing position. This is the first baby carrier by Baby Tula that offers all the features you and baby need: variable width settings for use with newborns to toddlers, adjustable head support, and multiple carry positions including front facing and back carries.
The new Tula Explore carrier combines the best features so well loved of the Tula (good fit and comfort for both moms and babes) with the  new front facing feature.

1. Every carry position your baby will need, including facing out

Multiple positions to carry baby including front facing out*, facing in, and back carry. Each position provides a natural, ergonomic position best for comfortable carrying that promotes healthy hip and spine development for baby.
2. Innovative body panel with an easy-to-adjust design
Adjusts in three width settings to find a perfect fit as baby grows from newborn to early toddlerhood.
3. The padded, adjustable neck support pillow
Can be used in multiple positions to provide head and neck support for newborns and sleeping babies.
4. Breathable & lightweight cotton
Responsibly designed and made with care from soft and breathable 100% cotton that's easy to clean and machine washable.
5. Padding where needed for extra comfort
Padded shoulder straps provide optimal neck & shoulder comfort and offer quick adjustments for multiple wearers. Wide padded waistband helps evenly distribute weight. Padded leg openings to keep baby comfortable..
6. Waistband pocket and removable hood
Large pocket on the waistband to store necessities. Coordinating removable hood with snaps to support baby's head while sleeping, sun protection while out and about, and extra privacy while feeding baby.
* Before beginning to use the Explore Carrier in the facing out position, your baby should have head and neck control and their chin should clear the top of the panel when facing out. We also suggest a weight range for the facing out the position of 13-22lb for shorter intervals of time for optimal comfort. Watch the baby for signs of sleepiness or over-stimulation. Baby should not sleep in the front carry facing out position.
Tula Carrier
Facing Positions
Multiple positions to carry baby including front facing out, facing in, and back carry. Each Position provides a natural, ergonomic position best for comfortable carrying that also promotes healthy hip and spine for baby
Width Settings
Innovative body panel with an easy-to-adjust design that allows the carrier to be sized into three width settings, which can be used from an infant 3.2 to a 20 kg toddler
Back-support
The Explore carrier utilizes a padded and adjustable neck support pillow, which is attached to the body panel, and can be used in multiple positions to provide head and neck support for newborns to sleeping babies
Padded Waistband
Best in class padded waistband helps evenly distribute the babies weight so that you don't feel uncomfortable, anywhere
Padded Shoulder Straps
Padded shoulder straps provide optimal neck and shoulder comfort and offer quick adjustments for multiple wearer
Padded Leg Openings
Comes with padded leg openings keep the baby under thighs and knees from having red marks
Carrier Hood
Matching removable hood with snaps to support your sleeping baby's head and frees your hands for holding other things. The hood cover also serves as sun protection while you are out and about. It also big enough to afford some privacy while you breastfeed your baby
Pocket Waistband
Large front pocket waistband to store some necessities that you may need to conveniently and quickly reach out for when required
Made
Responsibly designed and made with care from soft and breathable 100% cotton that's easy to clean and machine washable
Tula Explore - Coast Celestial Lights
Brands Baby Tula Inc
Product Code: Tula Explore
Reward Points:

319

Availability: In Stock
S$ 319.00

Price in reward points: 31900
Related Products
Tags: Explore Baby Carrier, Tula Baby Carrier Celestial Lights, Tula front-facing baby carrier